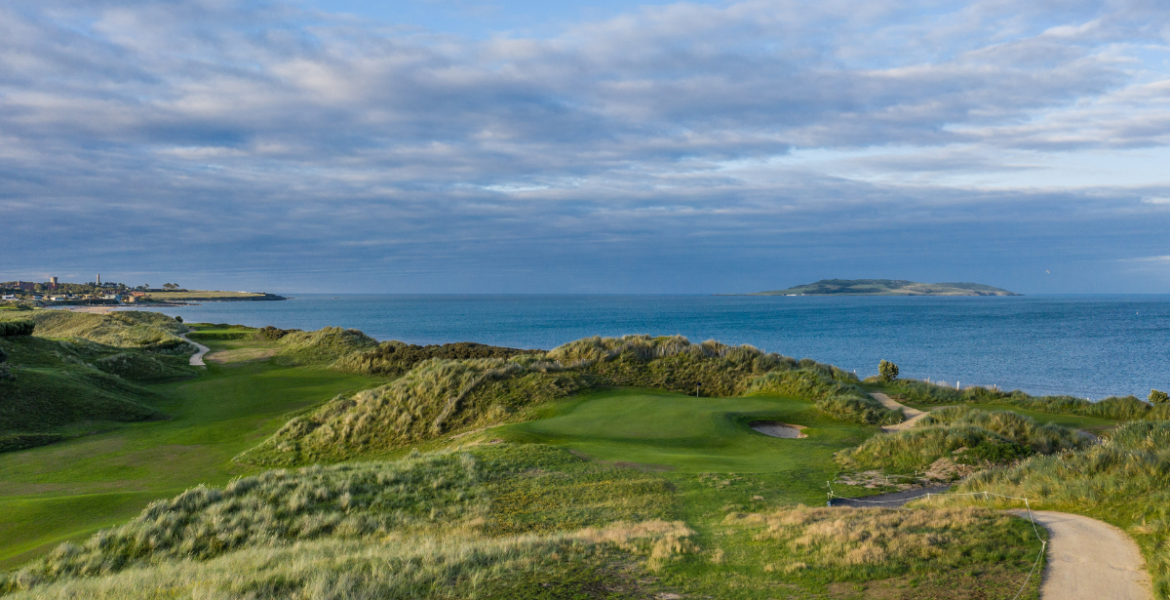 Comments Off

on Two Hidden Links Gems on Ireland's East Coast
The key to planning any golf trip is taking full advantage of your time. It also involves going off-piste on occasion and being pleasantly surprised. Including a hidden gem golf course amongst the Trophy Links is essential to get the true essence and local flavor of links golf. Knowing which courses to include and how to include them is fundamental. Dooks Golf Club and Ardglass have attracted the attention of the masses, but there are still a few hidden gems left to be discovered.
We thought we'd highlight two hidden gems within 20 minutes of the Dublin airport, which can provide a stand-alone golf day or be paired with a big brother Trophy as part of a 27- or 36-hole day – both offering outstanding value. They are Sutton Golf Club and Corballis Links Golf Club.
Sutton Golf Club
Sutton Golf Club obviously holds a special place for the Carr family because our family home was situated overlooking the second green. It was where our late father and the founder of Carr Golf, J.B., practiced day and night, into the wee hours, with a spotlight mounted onto the roof of the house. This is where J.B. launched a career highlighted by winning 40 championships – including three British Amateur Championships – playing in 11 Walker Cups and becoming the first Irishman to be named Captain of the Royal and Ancient Golf Club of St. Andrews and to be inducted into the World Golf Hall of Fame. The J.B. Carr Room at Sutton Golf Club tells this story of an extraordinary career, which began at this stunningly scenic 9-hole links golf course on the dunes at Cush Point.
Situated on a sandy peninsula, Sutton is a 3-wood across the estuary from the fourth hole of its big brother, the internationally-acclaimed Portmarnock Golf Club where J.B. Carr grew up. Combining 18 holes at Portmarnock Golf Club – ranked No. 27 in the world – with nine holes at Sutton Golf Club, followed by dinner in the J.B. Carr room is an experience like no other. Dave Podas, PGA Professional at Bel Air Country Club and Joe Steranka, past president of the PGA of America, both recently enjoyed this itinerary and rated the experience as an absolute must combining the best of world golf and a history of the amateur game in these parts.
Although short by modern standards, Sutton requires good course management, especially in the summer months when the rough is up. Dating back to 1890, Sutton boasts the finest views of Ireland's Eye (a small, uninhabited island off the coast of County Dublin) and Howth Head (a fishing village situated northeast of Dublin City). Bring your short game to Sutton and enjoy a truly hidden gem steeped in Irish golf history.
Corballis Golf Links
Corballis Links Golf Club was established in 1972 and is affiliated with both the Golfing Union of Ireland (GUI) and Irish Ladies Golf Union (ILGU). Situated directly adjacent on the same lands as the acclaimed Island Golf Club, Corballis is a testing par 66 combining rugged seaside beauty and stunning views with the requirement for accuracy and a respectable short game, not unlike Sutton. Bernhard Langer always practiced at Corballis ahead of his many Irish Open appearances and often complimented the consistent quality of the natural putting surfaces. Corballis was recently included in the Top 100 Hidden Gems in the UK & Ireland and was described as a little gem by J.B. Carr back in the day.
In 2007, the Carr family brought in Ron Kirby, the renowned architect behind Old Head Golf Links, Gleneagles and Dromoland Castle Golf Club, to redesign the 13th, 14th and 15th holes. This, coupled with a recent six-figure upgrade to the golf course and clubhouse, makes Corballis an ideal 36-hole day combined with its neighbor The Island or a round on arrival or departure day with Dublin Airport less than 20 minutes away.
Whether you choose Sutton or Corballis to kick off your Irish golf vacation or for the last round before you bid the Emerald Isle farewell, you'll be glad you did and at a fraction of the cost of the trophy courses.
---
To experience the hidden gems of Dublin, contact our travel team today using the contact form below, or call +353 1 822 6662 or US Toll Free 1 855 617 5701.
Error: Contact form not found.