Getting you around efficiently in luxury and comfort
The Irish, Scottish & English landscapes are some of the most beautiful in the world. Because of this, the transportation you chose can often be just as important as the golf you play. We at Carr Golf recommend all our groups travel with a coach and driver or helicopter and pilot to travel to avoid getting lost. Ireland, Scotland and England may be small, but that does not mean they are easy to navigate!
One of the most important elements of any golf trip is the coach and the driver. The best planning and execution, in the world, is complemented by travelling each day in luxury.
Reclining captain seats, tables, refrigerator, Wi-Fi, WC are all amenities we see as essential to enhancing a golf trip. Wi-fi comes as standard on all our coaches and WC in all vehicles carrying more than 12 golfers. We can supply drinks, playing cards and other amenities to make your journey as comfortable as possible.
Our elite drivers are carefully selected and allocated to groups. Most have been with us for many years. Carr Golf prides itself on having the best fleet of coaches and the best drivers in the business.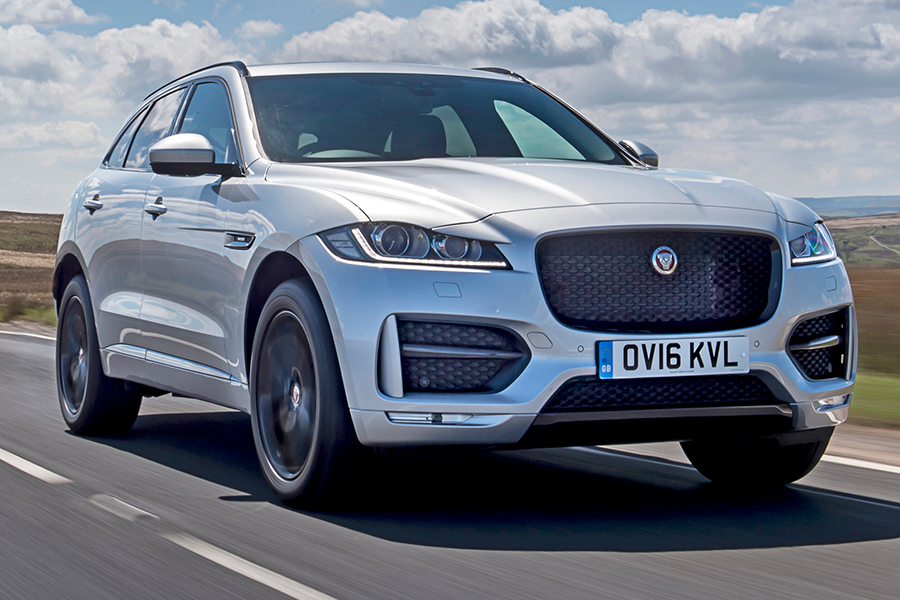 We promise all our clients a luxurious and comfortable rental car when traveling with us. It is sometimes nice to create your own journey and not have the constraints of having a driver. Especially on some of the incredible roads such as the Ring of Kerry.
2-4 passengers / 2 golfers
Leather Interior
Full air conditioning
We recommend our American friends choose the automatic option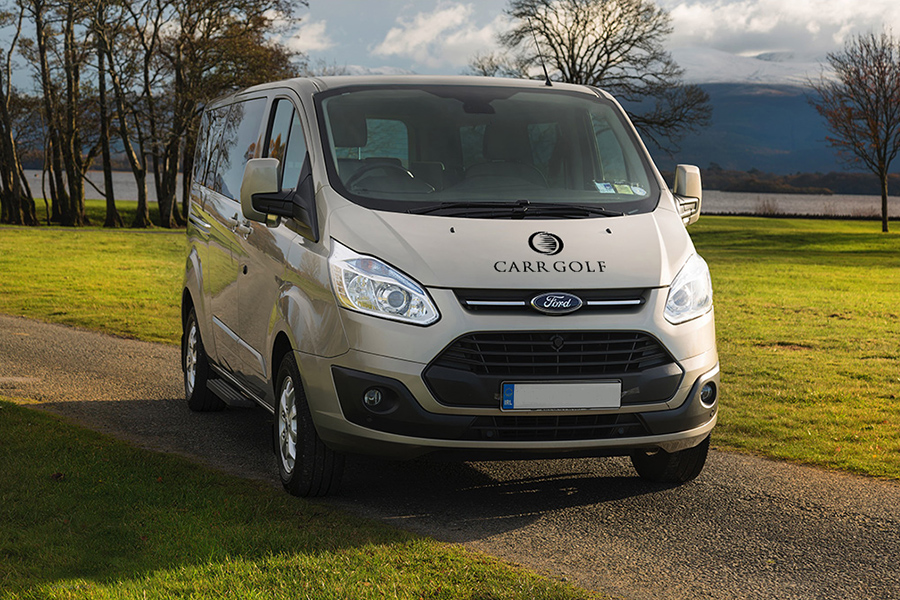 Our Class B vehicle is perfect for groups of four golfers. These luxury vehicles are the smallest we offer and can bring you down the gorgeous country roads with ease. We operate long-wheelbase vehicles for increased passenger comfort and superior luggage capacity.
Up to 4 golfers
Full air conditioning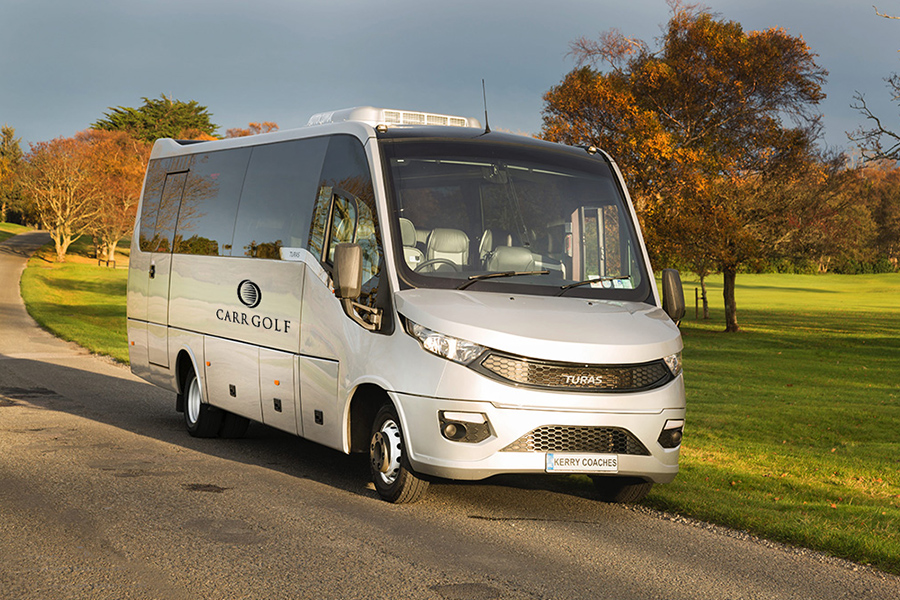 Our Class D+ vehicles are ideal for groups seeking VIP treatment. Each leather seat is handcrafted to provide superior comfort. There is ample legroom and the luxurious interior provides the perfect setting to travel in comfort and style.
Up to 12 golfers
12 Large "captain's chair" style full leather reclining seats
Tables
Full air conditioning
Refrigerator
DVD Player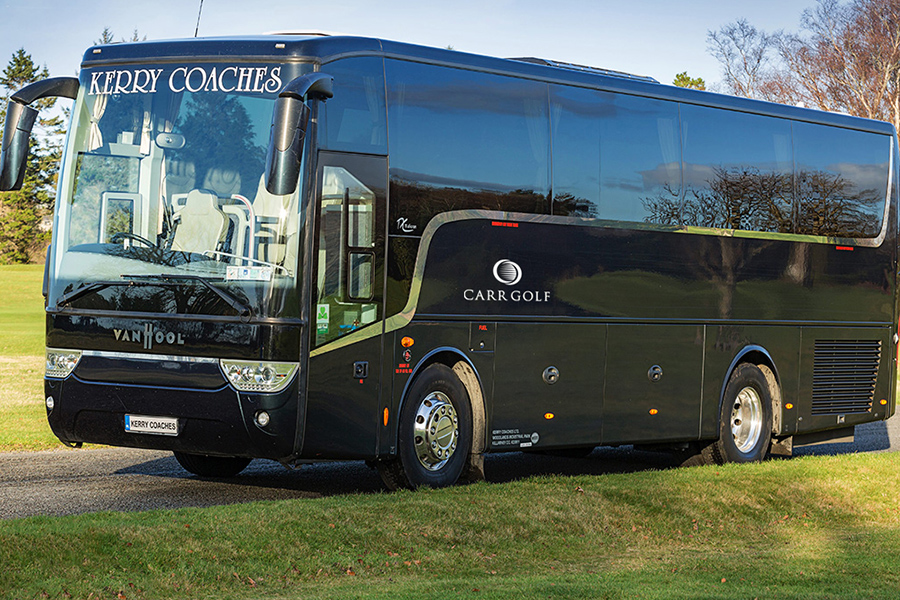 Our Class F+ coaches are the highest specification vehicles in the country. They are a 5 star, deluxe coach that has unrefined levels of luxury. These coaches make any journey, one to remember.
Up to 20 golfers
24 full leather reclining seats
2 x 24in widescreen monitors
2 x Refrigerators
4 x Tables
Toilet
Full air conditioning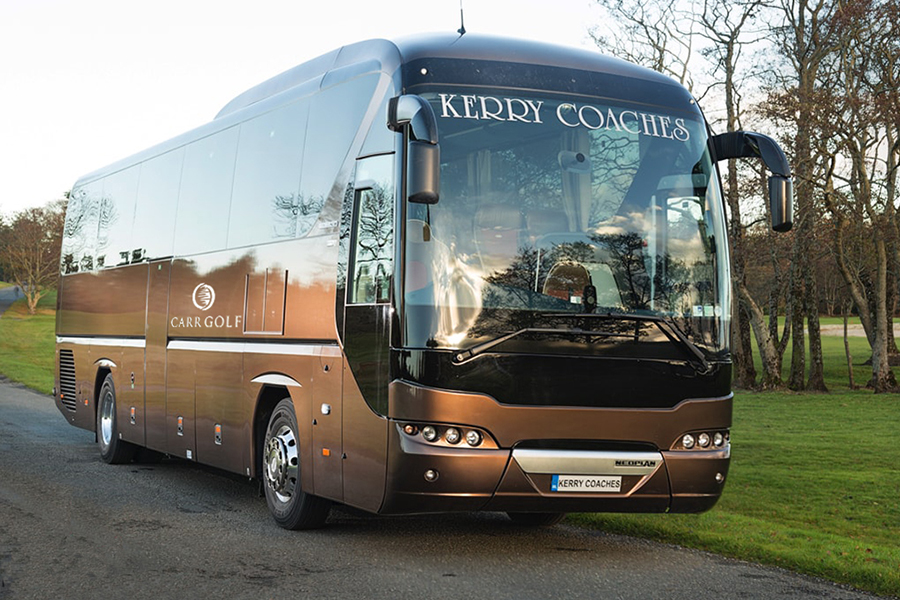 Our Class G+ coaches are our largest executive vehicles. Even large groups can travel in style with 32 seats, plentiful legroom, and limitless comfort. With multiple tables of two sets of seats facing each other, it is perfect to enjoy a game of cards or discuss your golf post-round.
Up to 32 golfers
32 reclining seats
Toilet
4 x Tables
2 x Refrigerators
Full air conditioning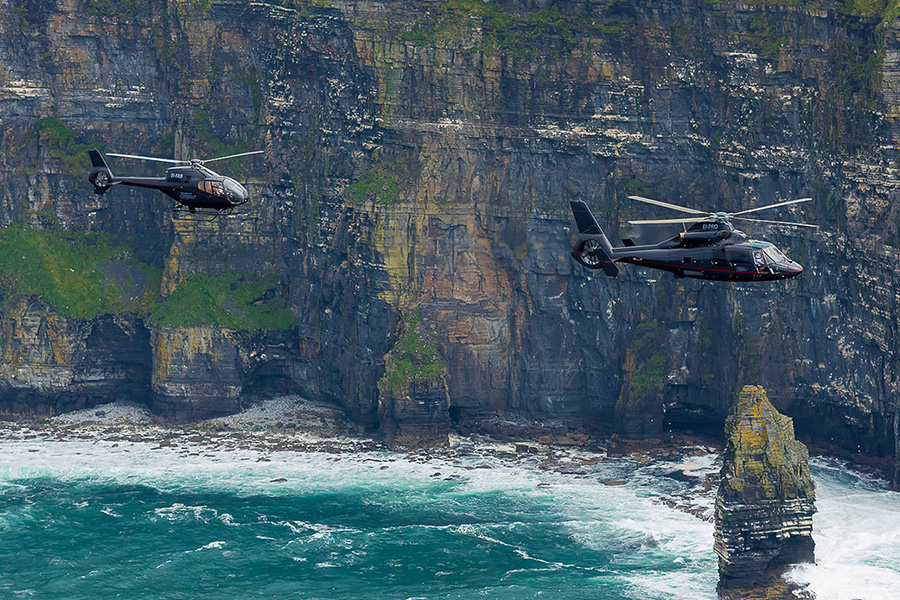 Helicopters are often used to take the sting out of some of the longer transfers on a golf trip. The time savings can often equate to 20% of the time taken to travel by road. A number of single or twin-engine machines are available for charter so do let us know which option you would like to explore when planning your trip. Travel with speed whilst enjoying the spectacular views.