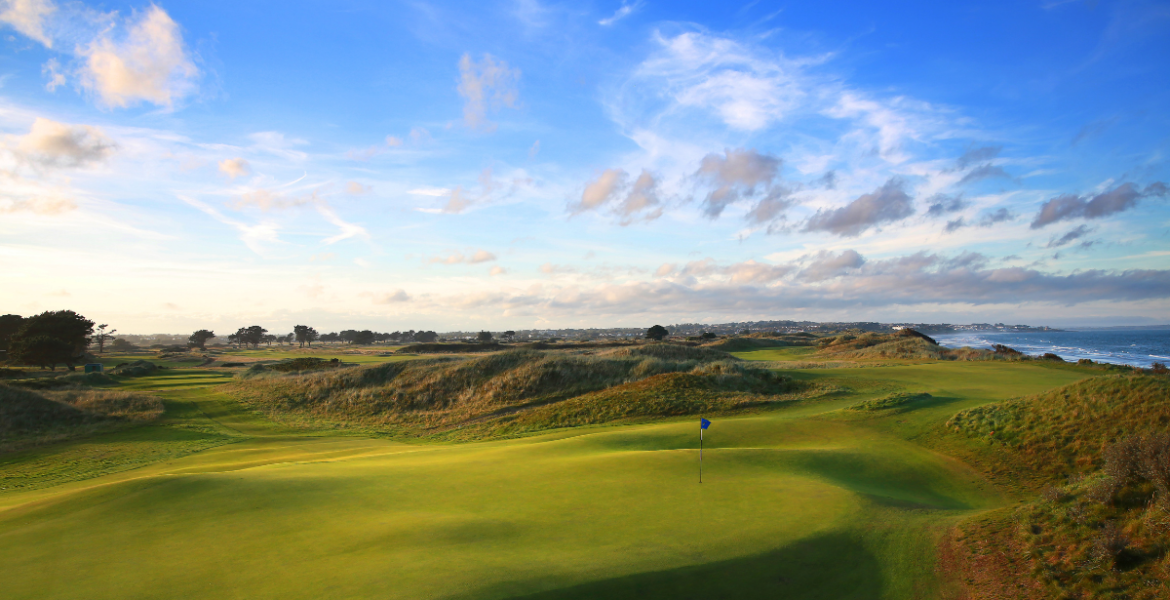 Comments Off

on Top Five Reasons to Bring Your Dad on an Irish Golf Vacation
Once-in-a-lifetime trips to Ireland with your father could well be one of the greatest experiences in both your lives. Myriad reasons abound to visit the Emerald Isle, but here are our top five reasons to bring your dad to Ireland:
1. Links Golf at its Finest
Less than 1% of all golf layouts are "true links," and Ireland is blessed with many of the finest in the world. "Links golf is tough, but also features some of the most scenic and beautiful holes you will see anywhere in the world," says Carr Golf sales manager Mark Byrne. "One of the most common tips you'll hear in golf is to keep your head down. With links golf, I would suggest lifting your head and taking it all in in between shots." Check out our article about what makes a true links course for more info.
 2. Extraordinary Whiskey (and Beer)!
Whether you're going on official tours and tastings at places like the renowned Old Bushmills Distillery or Jameson Distillery, or simply sipping the spirit as a nightcap, there's just something special about sharing a glass of whiskey with dad. As for Guinness, it just tastes better in Ireland. Be sure to tour Dublin's Guinness Storehouse if you have the chance. Indulge in the "Connoisseur Experience" for a truly unique tasting experience. The tour concludes at the rooftop Gravity Bar, which offers dramatic 360° views of Dublin and there is plety of free Guinness along the way to sweeten the deal.
 3. Sports!
You'd be hard pressed to find many of Ireland's most popular sports – such as hurling and Gaelic football – in the U.S. No matter what level of competition you view, it's sure to be entertaining. Irish sporting lovers play the games for the pure joy and satisfaction it brings them as well for the pride within their local community. If you're in Dublin, check out Croke Park. The Gaelic Athletic Association (GAA)'s headquarters, Croke Park is the largest sporting arena in Ireland and one of the largest stadiums in Europe with a capacity of 82,300. All-Ireland Finals take place here in September where teams battle it out for the highest honors in front of unique atmosphere that can't be replicated anywhere in the world.
Fun fact: While players train like professional athletes, both sports are purely amateur and not a single player is paid.
 4. Adventure Awaits!
Ireland boasts many walkable cities where you can wander around without an agenda and stumble upon a good time. Ask locals for their pub and restaurant recommendations to get the full experience. As mentioned above, the Guinness Storehouse and Croke Park are must-visits in Dublin. Other popular destinations in the capital city include Kilmainham Gaol, Glasnevin Cemetery and Saint Patrick's Cathedral in addition to a wide swath of world-class pubs and restaurants.
On the west coast, Galway's main shopping street – aptly named Shop Street – and the always popular Eyre Square, are home to great pubs such as Tigh Neachtains and the lively Dail Bar. Dating back to the early 14th century, St. Nicholas' Collegiate Church – located just up the road from Neachtains – is one of Ireland's best-preserved medieval town churches. Up north, Donegal Castle tops many visitors' lists of "must-sees" in Donegal. About 1.5 hours south of Galway is Doolin, known as the home of traditional Irish music. There's no shortage of adventure – and heritage – in this vibrant coastal village.
5. Golf History!
From iconic moments in tournaments to fascinating course history, golf in Ireland is about way more than the number on your scorecard. Home to the world's oldest clubhouse, dating back to 1405, Ardglass Golf Club is situated on a craggy peninsula 35 miles south of Belfast. Gusts of wind off the sea, rollicking fairways and firm, tiny greens create a thrilling challenge. Known as "The Hidden Gem of the North", it is one you must add to the itinerary.
Designed by Old Tom Morris and Alister MacKenzie, Lahinch Golf Club dates back to 1893 and is one of the most respected links courses in the world. Its "Dell" hole is one of the most photographed in the game. Many holes are named for historic events such as Waterville's "Mass Hole." According to Irish lore, course designer Eddie Hackett moved the 12th green to avoid building the putting surface on "sacred ground" traditionally used for religious gatherings.
Whether planning a trip around Ireland's oldest courses, most scenic, most challenging, or something else altogether, we can build a dream Irish golf vacation. For the daughters, don't forget to bring your Dad to Ireland for the World Invitational Father & Daughter Golf Tournament, July 23 – 26, 2018 and for the boys, make sure you journey to the Emerald Isle with Dad for the World Invitational Father & Son Golf Tournament, August 8 – 12, 2018.  Who knows, an Irish golf vacation could become an annual trip!
---
Find out more about the World Invitational Father & Daughter Golf Tournament & World Invitational Father & Son Golf Tournament for an incredible father/son or father/daughter experience, or tailor a unique golfing itinerary made for you only by contacting our travel team today using the contact form below, or call +353 1 822 6662 or US Toll Free 1 855 617 5701.
Error: Contact form not found.