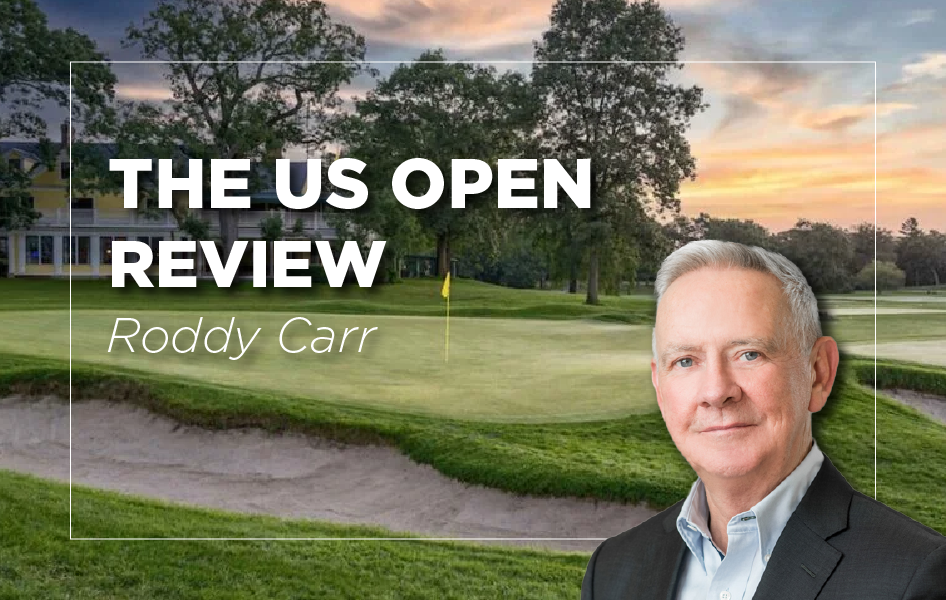 Comments Off

on The US Open Preview by Roddy Carr
There are two great movies for true golf aficionados. 'A Stroke of Genius' which chronicled the life of Bobby Jones, and 'The Greatest Game Ever Played', a biographical sports movie based on Francis Ouimet and his surprising victory over the legendary Harry Vardon in the 1913 US Open, played at The Country Club in Brookline, venue of this week's US Open.
Many regard the fairy-tale story of Ouimet, an amateur golfer and former caddy winning the US Open as the birth of golf as we know it. After his win, the sport's popularity exploded in the US. Ouimet and Vardon represented everything that's right about sports and sportsmanship. They were gentlemen, champions, teachers, leaders and in their own quiet way, heroes.
I'm honoured to have played and worked with some of the game's greatest, from Nicklaus and Ballesteros to Palmer and Player. Each embraced the game's traditions with principled sportsmanship and manners they believed were as important as winning or losing. These old guys, like Ouimet, Vardon and indeed my father, set the standards for us all to follow.
The 2022 US Open arrives at a time when professional golf is experiencing a period of disruption and division. The importance of golf's Major tournaments has been accentuated. Throughout the game's rich history, winning Majors has been a benchmark for greatness. The 'Grand Slam Club' is the most exclusive club in professional golf. Tiger's life-long ambition to overtake Jack's 18 wins is one of the few career goals he will not achieve. It is now unlikely Jack's record will ever be broken.
It is good to see the US Open return to historic Brookline after so many years. The Country Club, named by its founders over 100 years ago, was the original that has flourished ever since.
Brookline has witnessed much drama over the years, including the 1999 Ryder Cup incident with Justin Leonard and Jose Maria Olazabal, and the 1998 US Open play off between Curtis Strange and Nick Faldo. It'll be no surprise to see more old-fashioned US Open train wrecks this weekend.
We may even see a younger winner, with Matt Fitzpatrick springing to mind. He won the US Amateur Championship here in 2013 and arrives in good form. I've always felt Justin Rose has the classic US Open DNA with his cool, calm, collected and patient approach. Having shot 60 with a 6 on his card in his final round in Canada last weekend, his odds will have shortened considerably.
What history tells us...
Each of the past 10 US Open Winners…
Ranked outside OWGR Top 30
Had a previous Top 25 US Open finish
Made the cut in the last US Open AND in the most recent Major
Previously competed in 1-8 US Opens
Won less than 2 Majors
Had a Top 5 finish already that year.
Only four golfers meet almost all those criteria, heading into Brookline.
Jon Rahm
Xander Schauffele
Joaquin Niemann
Matt Fitzpatrick
First Round Leader statistics speak favourably for
Justin Rose
Louis Oosthuizen
Rory McIlroy
Russell Henley
With two Top 10 finishes in this season's Majors, Rory will be hunting down victory at Brookline to prove he's far from finished winning the big ones. Scotty Scheffler has settled down after his Augusta win and on paper is the one to beat. Justin Thomas always looks like he wants it more than anyone else, especially given his blow out finish last week.
It will be good to get back to tradition for these last two Majors, with The Country Club in Brookline followed closely by a trip back to the Home of Golf, St. Andrews in July.
Roddy Carr
Tuesday, June 14