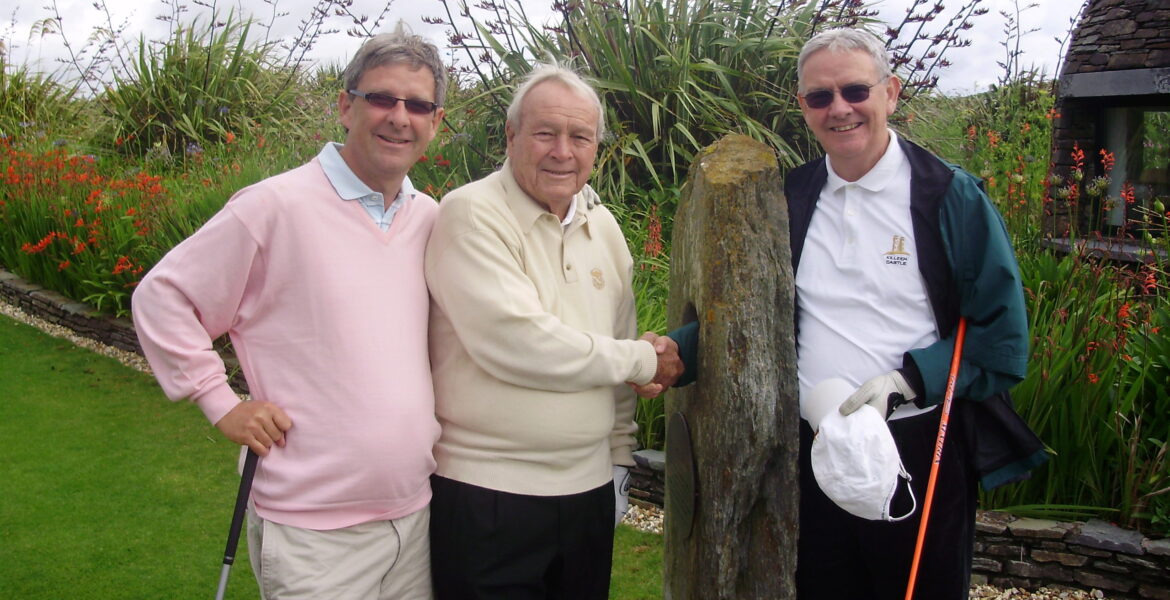 Comments Off

on The Back Nine on Sunday at Augusta
Like many golfers, I have been thinking about Augusta this week under these very difficult cocooned COVID 19 circumstances. Much has been written recently about the great sporting feats and magic moments of famous players over the years at Augusta and the train wrecks experienced by some unfortunates, many of whom have never recovered from the trauma.
Until 2002 the world only ever saw the back nine at Augusta on television. It is without question the most picturesque and famous back nine in the world of golf. People who have never had the good fortune to visit Augusta feel they know every hole intimately. Many of the modern-day champions credit watching Jack, Arnie, Gary and Seve winning the Masters the moment their dreams were ignited to become golfers and win the Masters one day, not unlike the Open Championship.
The exquisite beauty of that back nine, where every hole is a painting in its own right, is part of the lure, the beauty of the temptress that has teased, dared, cajoled, tricked, flattered to deceive and ultimately and always sorted out the 'men from the boys' over the years. No back nine on Sunday has delivered such extremes of agony and ecstasy.
This is no accident when you look deeply into the man who conceived this vision and his dream back in 1930 and realised it with the help of the masterclass architect Alastair McKenzie. Anyone who has seen the 2004 biographical drama movie on Bobby Jones' life called 'A Stroke of Genius' will better understand the D&A of Augusta and realize why it stands unparalleled in the world of golf.
Jones's hallmark and legacy are not only his unique Grand Slam as an Amateur but his integrity  & sportsmanship and through this the influence he has had on the modern game, which has been immense. Jack Nicklaus, arguably the greatest player of all time, has always strived and succeeded in his personal goal of maintaining the same standards of integrity and sportsmanship of his idol Bobby Jones. Arnold Palmer, with his immense charisma, also carried that beacon of integrity & sportsmanship throughout his illustrious career.
The Bob Jones Award is the highest honor given by the United States Golf Association in recognition of distinguished sportsmanship in golf. It is named in honor of Bobby Jones. The definition of sportsmanship is: The game is played with proper consideration for fairness, ethics, respect and a sense of fellowship with one's competitors. A "sore loser" refers to one who does not take defeat well, whereas a "good sport" means being a "good winner" as well as being a "good loser".
It always amazed me growing up to see people who had been hammered by JB my father come up at the end and almost thank him for the beating they had received…that is how good a humble 'winner' he was collecting 40 Championships. He received this award in 1961, Arnie in 1971 and Jack in 1975. Barbara, Jack's beautiful wife won the award in 2015 for her contribution to golf, which was richly deserved.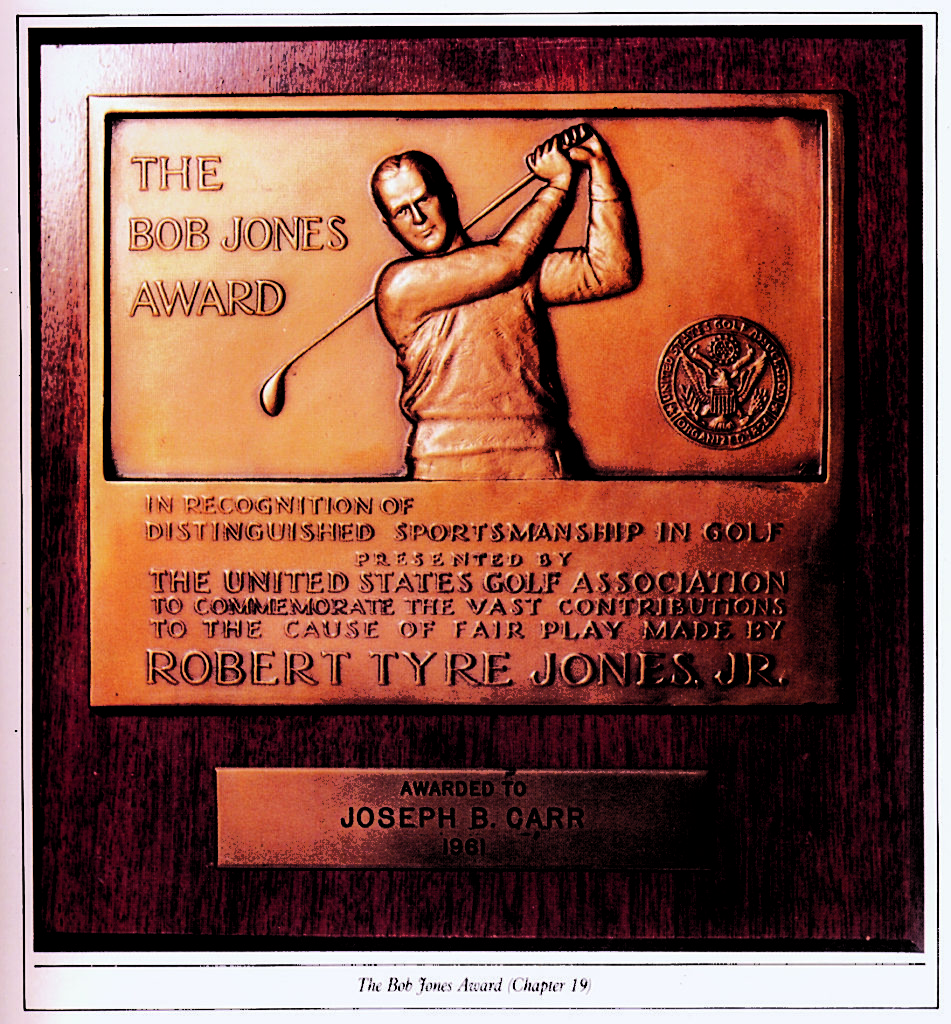 Manners matter and mattered to all of these gentlemen. Arnie hated when golfers wore their hats in his clubhouse at Bay Hill and the staff would politely remind anybody entering of the unspoked rule – hats OFF…
I remember I was at the Masters with my brother John and Niall Horan a few years back. We were having a great chat in the garden lawn in front of the Clubhouse. Niall was a rookie attending the Masters and caddying for Rory in the Par 3 event. Niall from Mullingar, where our family has had great memories over the years, was so enthused about Augusta and the stories we were telling him about my father being invited to play in 1967  Masters with a personal letter from Bobby Jones and how he had played the first round with Arnold Palmer, who was by that time a great friend of my father. Arnie, as it happened, was sitting just two tables away surrounded as always by his old friends. I said to Niall, would you like to meet Arnie? His eyes lit up and 'yes, love to' he said emphatically. We both got up and he followed me. Before I got to the table I turned to him and said 'take your hat off – your meeting the King'. He did so immediately and was grateful later when I told him of Arnie's pet hate about hats. I introduced him to Arnie by saying that Niall was from Ireland and from a famous boy band that only Arnie's grandchildren would know!!. Arnie, as always, got up out of his chair, slowly, and chatted with Niall. Arnie loved the Irish.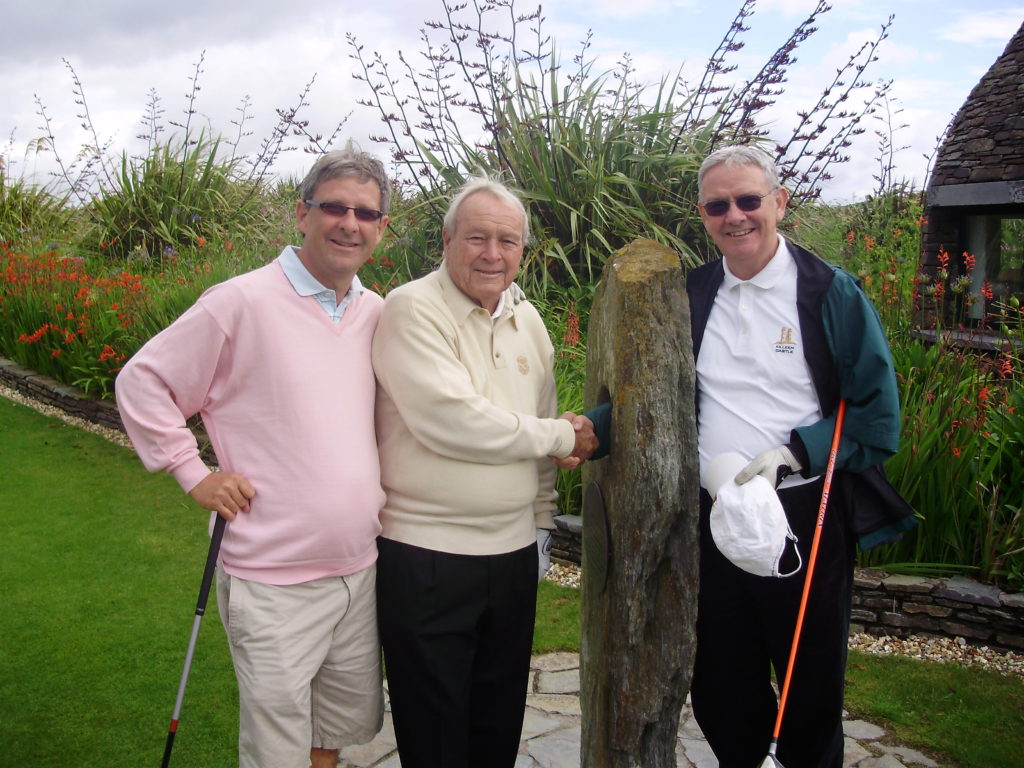 Good manners rule at Augusta. JB was the first member of Augusta from Ireland. In the three Masters he played from 1967 to 1969, he and my mother Dor had afternoon tea with the aging and ailing Bobby Jones and his devoted wife Mary in the famous Butler cabin. I was fortunate to meet Mr. Jones in his wheelchair on the back of the 18th green in 1969 waiting for my father to finish his round with playing partner Sam Snead. What a memory.
My father always said benevolent dictatorship works in golf clubs with the right people at the top. Such was the case in those days at Augusta with Cliff Roberts, Jones' great friend and confident as the first Chairman and a succession of strong Chairman's that followed to this day. The ethos and standards of its founders are maintained at all costs. The 'Invitees' (pros) the Patrons, (public) & Media all know the rules and they are obeyed. Full stop. No running, no litter, no mention of prize money, no 'get in the hole' shouting. Zero tolerance rules. It is by far the most impeccably and perfectly run major sporting event imbued with a spirit of respect and congeniality that is unique and attributed to its founder.
Bobby Jones' principles have been ingrained into the event over the years but to me it is the unique strategy of the back nine that is the most fascinating.  Jones was the supreme amateur and loved match play golf, 'mano de mano' as Seve called it. Why have European's been so much more successful at Augusta than in other US majors over the years. Seve, Lyle, Faldo, Woosnam, Langer, Olazabal, Garcia and Willett winning 13 times over the years.
I believe it is the ingenious strategic design which Jones no doubt heavily influenced McKenzie into offering a cocktail of high risk – high reward second shots on the par 5's and challenging every second shot on the par 4's to favor the brave and those with the 'cohones' and punish those who lacked confidence and boldness and those with self-doubt. There is the bunker-less and innocent looking Par 4. 14th. that has coughed up birdies to emerging winners who dare go for the pin. There are the cheeky Par 3, 12th and 16th, both short iron shots, defended by picturesque water features that hide the subtleties and the influence of mother nature which is accentuated by the rising atmospheric pressure cooker that builds on those special Sunday afternoons. Ask Koepka, Spieth, Molinari about that…!
The European's have shown in Ryder Cups that they thrive in 'mano de mano' situations and this is I believe why they have done so exceptionally well at Augusta – as Jones' would have wished. Woosnam's win in 1991 was a perfect example against Olazabal. He stood on the 18th tee and the only way he can lose is by driving it in the bunkers left or trees right. He went back to his instincts and crushed a tee shot with this massive bricklaying forearms carrying over the bunkers on the left taking them out of play. The rest is history. It was a brave win. (the following year the tees were moved back 30 yards!!).
It's a very special place that has delivered drama and excitement that will live in the minds of golfing aficionados forever. The 'kiss goodbye' it granted to Jack with his son Jackie on the bag, the dream of a lifetime win by an emotionally overcome 'gentle' Ben Crenshaw, the 'once in a lifetime' win by local pro Larry Mize with that impossible chip in against Norman and the comeback of all comebacks granted to the 'roaring' Tiger Woods last year.
It's no accident that this happens. It is part of the spirit & legacy of the great man who created this event born out of friendship, comradery, respect and a deep love of the game of golf and all it stands for.
All we need now is the first Irish winner and both Rory and Shane are well capable of that.
Roddy Carr
Sunday, April 12th, 2020