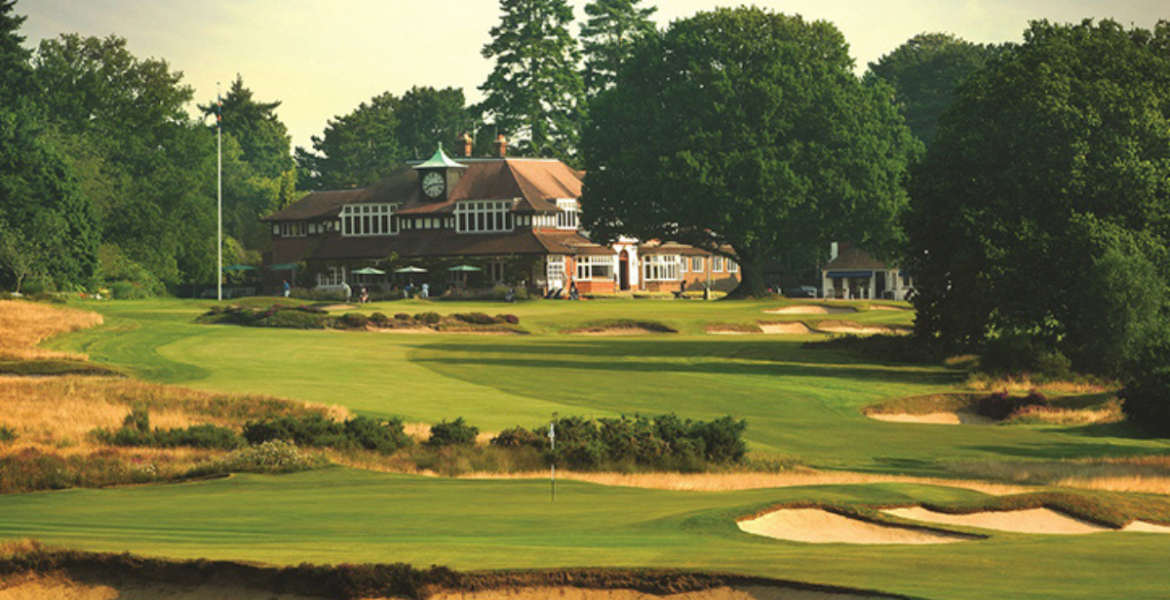 Comments Off

on 'Suffer You Mothers' – The U.S. Open is Meant to Hurt
The setting on the balcony of Sunningdale Golf Club on a sun-blessed  autumn evening in the shadows of the famous Sunningdale tree, which is the Club's logo, is hard to beat. It's even harder to beat when you are having an in-dept conversation with one of the most intelligent golf professionals I have had the pleasure of knowing over the last 30 years.
Paul McGinley's masterclass job as Ryder Cup Captain has set the bar so high that those Captain's left in his wake simply look inept! I had the dubious pleasure of managing Seve when he was Captain of the Ryder Cup at Valderrama in 1997 and to be honest it was a nightmare. He had no plan except to win 14 & ½ points using only his instincts and passion.
It was a tumultuous roller coaster ride all week and he managed to pull it off with the sheer force of his personality and character and his deep rooted obsessive desire to beat the Americans at all costs.
When he called me at midnight on the Sunday night after the win celebrations and told me to: "Tell Ken Schofield (the CEO of the European Tour) I will not be Captain again"  I knew that he realized he had gotten away with it  – once – and like a true Matador was not going back into that 'ring' again!
On the balcony, Paul and I were talking about the way the game has changed so dramatically in the last 10 years. "I am wasting my time out there now on the regular tour. I hit the ball further than I did in my prime and last month played really well in China and shot 12 under par on a typical Tour course to finish 15 shots behind!! They are just bombing it 350 yards on these open courses and it's a wedge-fest. I cannot compete unless it's on a golf course that requires mental toughness, resilience, intelligence, strategy and accuracy".
There are less than a handful of courses like that now every year on Tour and the US Open sets the bar in that department.
The 'Majors', the priceless Majors.
The Masters comes first, and it demands courage, imagination, and respect.
Then the US Open – The marathon ball breaking test of trying to beat par on a course that is set up specifically to stop you doing that. It's set up to break you and mostly it wins.
The Open leaves it to mother nature on her god given links terrain to sort out the men from the boys and declare a worthy 'Champion Golfer of the Year' at the end of an epic week.
The PGA, for years the poor cousin of the others, still ticks the "I have won a Major" box, especially in the US.
This week its Shinnecock.  A true U.S. Open test dating back to 1896 and in the state of NY, where the fans are merciless and they like bloodshed.
Just look at the past winners: Ray Floyd, Corey Pavin and Retief Goosen all seasoned veterans who were cumulatively 5 under par for the three events they won. This year the links style course is 500 yards longer and tougher than the last time the Championship was played here.
Tiger has been honing in his 'stinger' one iron in recent weeks in preparation for what is to come. Can he win….America would love to see it. The question is now that he has tasted fallibility and no longer intimidates, does he have the stamina and strength of mind to pull it off?? The odds are against him.
https://www.instagram.com/p/BipSp0bjR2m/?taken-by=pgatour
Phil would die happy if he checked out with this one to join the elusive Grand Slam Club.
Rory knows what it takes having won one. The course suits his eye. He has the game, but it needs to be his week on the greens and to keep his head high.
It's hard to bet against the on-form Justin Rose who seems to be the perfect horse for this course as it is with Jordan Spieth, arguably the toughest of them all, as we saw at Augusta this year.
Stenson's three wood with 'daniel dart' accuracy shot off the tee should serve him well to be in contention.
Can Dustin overpower  Shinnecock and bring it to its knees? Many have tried and failed.
Louis Oosthuizen is an outside sleeper I fancy for this kind of test.
Will the slight, unassuming and deceptively good Justin Thomas win his coveted national title? He believes he can and he has the game and heart.
Will the plodders like Molinari, Snedeker or Zach Johnson out last the big guns?? Don't think so.
One thing is for sure, there are guys out there that realise that playing smart with patience and dogged determination can win this event , just like McGinley said.  For most it will be a week of torment, taking your lashes when and where they come and seeing if you can survive. No one will leave Shinnecock unscathed!
The winner will have played the best golf and will have been the strongest mentally. That is what the US Open week is all about.
Seconds out – Round one!
Roddy Carr
Wednesday June 6th 2018