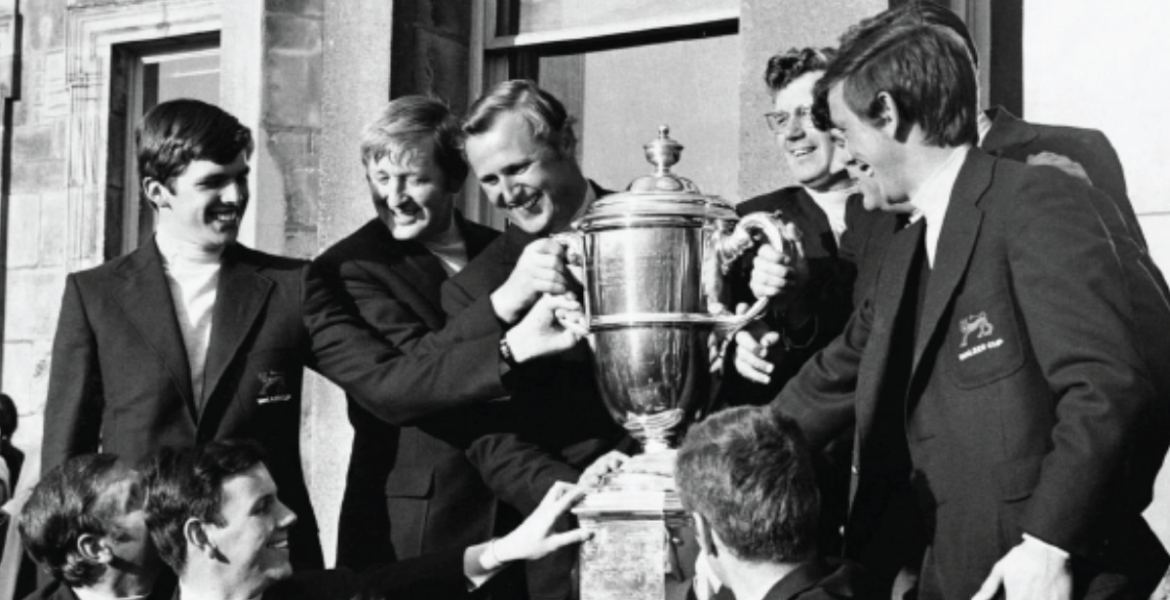 Comments Off

on Roddy Carr has no intention of letting the old man in – Fifty years on, the Walker Cup hero is still as devoted as ever to the game
RODDY CARR RELIVES THAT HISTORIC 1971 WALKER CUP VICTORY
Dermot Gilleece – Irish Independent
June 6 2021
It's a captivating thought for those of us of a certain age. 'Don't let the old man in', features as a song in the recent movie The Mule by Clint Eastwood, who celebrated his 91st birthday last weekend.
Clearly too advanced in years to be bothered by political correctness, Eastwood has adopted it as a mantra for living. So has Roddy Carr, who claims it has inspired him to take a fresh view of life into his eighth decade.
Carr could be forgiven for dwelling on past glories, 50 years after a record-setting appearance in the Walker Cup at St Andrews. Though happy to acknowledge the past, he is more concerned currently with a $50m golf project in Barbados.
We have just passed the centenary of the actual creation of the Walker Cup trophy in May 1921, according to Gordon Simmonds in his fine history of the event. It was donated by George Herbert Walker Bush, the father and grandfather of two future US Presidents, who was the USGA's president the previous year.
Intended for an event cumbersomely titled 'The United States Golf Association International Challenge Trophy', newspaper scribes showed officialdom the way — not for the first time — by abbreviating it to the Walker Cup.
As it happened, its international dimension had to be abandoned for lack of support in the aftermath of World War I. So it was that a transatlantic match between the US and Britain and Ireland was launched at The National GC, New York, in August 1922.
Prior to World War II, the most celebrated staging was in 1938 at St Andrews, where 18-year-old Jimmy Bruen inspired a home victory. And for international appeal, the biggest since then was in 1971, again over the Old Course.
We had reason in this country to be proud of the 1991 matches at Portmarnock. By then, however, the amateur game no longer reigned supreme, having been eclipsed by professional tournaments on television, especially the four Majors.
"From an Irish standoint, the build-up to the 1971 Walker Cup was essentially about John O'Leary and myself," Carr recalled. "John should probably have been on it, but I've always believed I was picked through the influence of the playing-captain, Michael Bonallack.
"He knew my father's golfing DNA better than anyone and I suspect the Carr bloodline was decisive. I also believe that in Humperdinck [Warren Humphreys] and myself, he was looking to younger players who hadn't had to endure regular hammerings from the Americans. As it worked out, we delivered five and a half points between us."
Joining career amateurs, the two youngsters roomed together in the team hotel where they were ordered not to read any newspapers either before or during the matches. Fortunately for Bonallack, social media wasn't a problem back then, though Carr had other concerns. "It didn't suit JB [his father] to be a spectator and my concern was that he would be critically eyeing my every shot," said Roddy. "So I told mum he'd have to hide, anywhere, possibly behind yellow gorse bushes. When the matches got under way, I seemed to relax about it all, even knowing he was out there somewhere."
In fact being Joe Carr's son delivered a huge bonus in the caddying skills of Tip Anderson. Renowned for working with Arnold Palmer, Anderson also caddied regularly for Carr senior and later for Roddy's brother John, who reached the semi-finals of the British Amateur at St Andrews in 1981.
"Tip was amazing," Roddy recalled. "He was the silent caddie. I had only to put my hand out and the correct club would be placed in it. If I sought confirmation about a particular club, the answer was always emphatic. I never knew him to make a mistake." Carr was to discover that this was especially true of reading putts.
In the opening day's foursomes, the 20-year-old was paired with Scotland's Charlie Green at number two, where they had a one-hole win over the crack American duo of Vinny Giles and Steve Melnyk, who captured the British Amateur a week later. Then came a halved singles with wily veteran, Bill Hyndman, in the afternoon.
On the second morning, Bonallack used different pairings in three of the four foursomes, with Carr now partnering another Scot, Hugh Stuart. This time, the defeated opponents on the 18th were Lanny Wadkins and Jim Gabrielson.
Entering the final eight singles, the US led by 9-7, which became 10-7 when Wadkins beat Bonallack in the top match. Then, remarkably, the home side won the next six in a row. These included a two-hole win by Carr over Jim Symons, which meant he had gone the full distance in all his four matches, while setting a record of three and a half points from a possible four. This would endure until 1983, when England's Andrew Oldcorn secured four from four at Hoylake.
Playing at number five in the order on a course measuring 6,951 yards, Carr was one up playing the last. There, with thousands watching his every move, he had a right-to-left breaking putt of 33 feet for a birdie. Crouching anxiously behind the ball, he had Anderson leaning over him.
"Is it fast?" the caddie was asked. "No. Medium," came the reply. "I bowed my head and beseeched the Almighty to guide the ball into the hole," said Carr. As it dropped, Anderson leapt in the air. He had done his job to perfection.
Tom Kite in the anchor position was the only other American winner, which meant a final score of 13-11. "I think we broke all the rules that night in the R and A clubhouse, including my mum being present," said Carr. "A crowd came over from Sutton and there was a lot of singing, including 'Kevin Barry' to a backdrop of royal portraits. Mum and dad seemed to get enormous pleasure from it all, which was nice. Funny, there wasn't any talk about the record. I was simply grateful to the captain for giving me the chance."
The following morning, he and Humphreys devoured every line from every newspaper they could lay their hands on. Then they were off to Carnoustie for the Amateur, with many moments to treasure. Among these was a reward the player savoured most of all — a hug from his father.
"It was the first time in my life that I could remember him hugging me," he said. "Years later, when Sam Torrance got Europe's winning point in the 1985 Ryder Cup at The Belfry, his father, Bob, hugged him for the first time. And I was fascinated to discover that Sam felt the same way about it as I had done."
A spell as a tournament professional ended in 1979 after which he regained his amateur status and worked in various aspects of the golf industry. When I questioned him last week about the schedule he was undertaking as a 70-year-old, he credited Eastwood. It was his way of explaining how he was back in Barbados on Tuesday evening having been at Layafette College, Pennsylvania, for the graduation of his daughter, Sophia, last Sunday.
He then rose at 5am on Wednesday morning to resume major upgrading work at Apes Hill Golf Course on a dramatic, elevated site. And by way of displaying a total disregard for advancing years, he has 88-year-old American architect, Ron Kirby, doing the design work remotely from his home in Florida.
I hesitated before asking about his next objective in golf. Without hesitation the two-handicapper replied: "I plan to break 70 this year."
And who would dare bet against him?