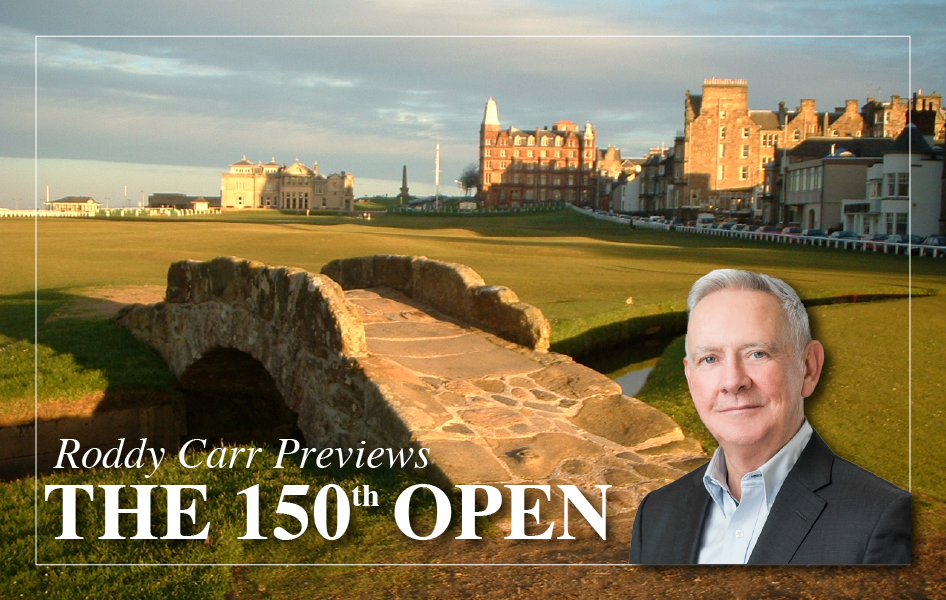 Comments Off

on Roddy Carr Previews – The 150th Open
As Marty and I arrived at the majestic old town of St. Andrews ahead of the 150th Open Championship, we were reminded how its unique history and traditions have come to symbolise the essence of our great game.
Outside of tournament week, the public can walk freely across the famous 1st and 18th Old Course fairway,  host to 29 Open Championships since its first in 1873. This week, it will once again be a cathedral for world golf.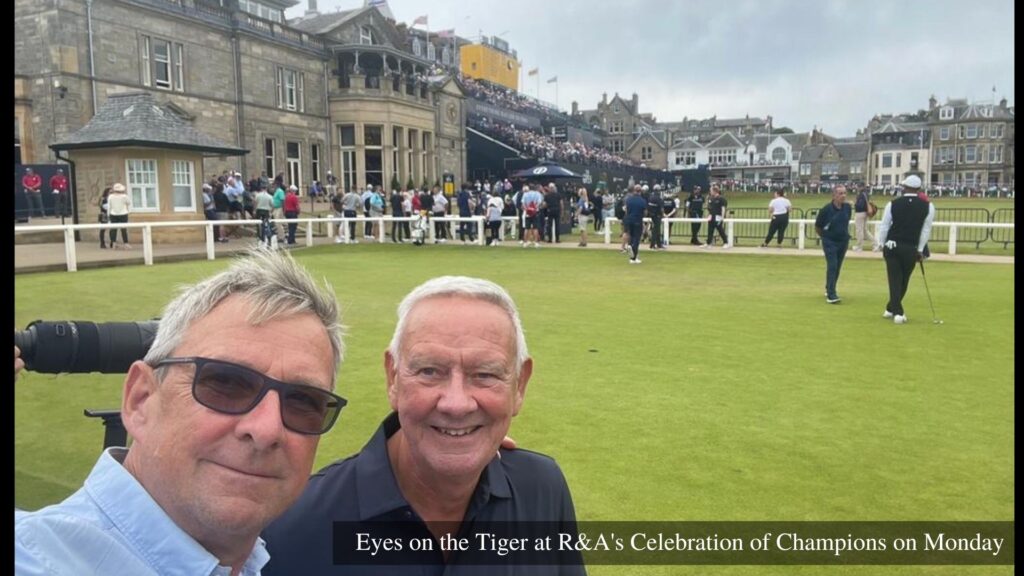 My father had a 30-year love affair with the Old Course. It was where he won the 1958 British Amateur Championship and where in 1960, he went close to winning The Open itself. Trailing the eventual winner, Kel Nagle by two shots after six holes in the final round, a freak storm halted his momentum and he eventually finished 8th when play resumed the following day.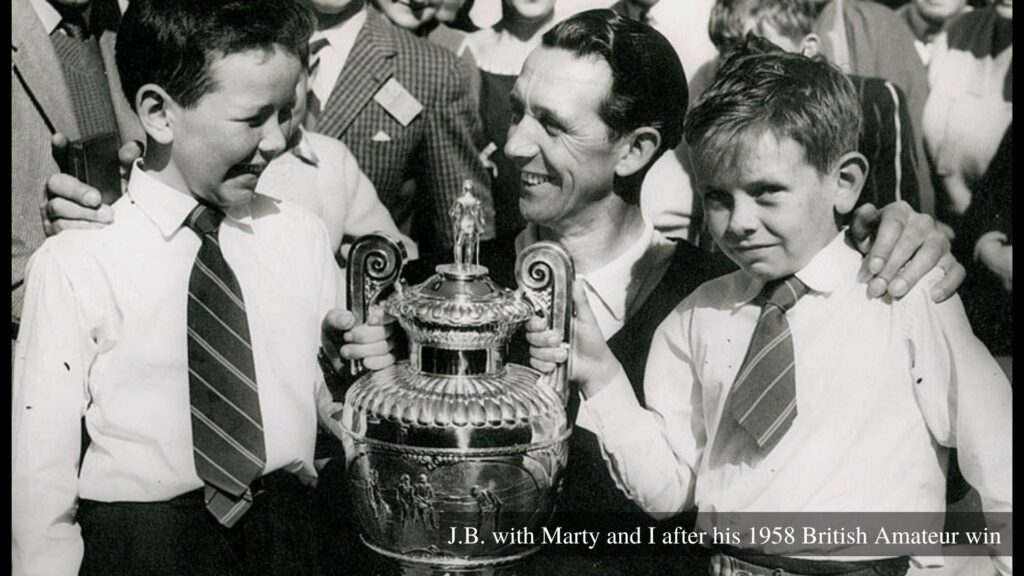 J.B.'s affection for St. Andrews was passed down through the family. He watched me hold an 11-yard putt on the 18th to beat Jim Simmons and win the 1971 Walker Cup for GB & Ireland. My brother, John was a British Amateur semi-finalist on the Old Course in the Eighties. All three of us had the legendary Tip Anderson on our bags, Arnold Palmer's caddy during his two Open wins. In 1991, J.B. received his final kiss goodbye from St. Andrews, becoming the first Irishman to Captain the R&A.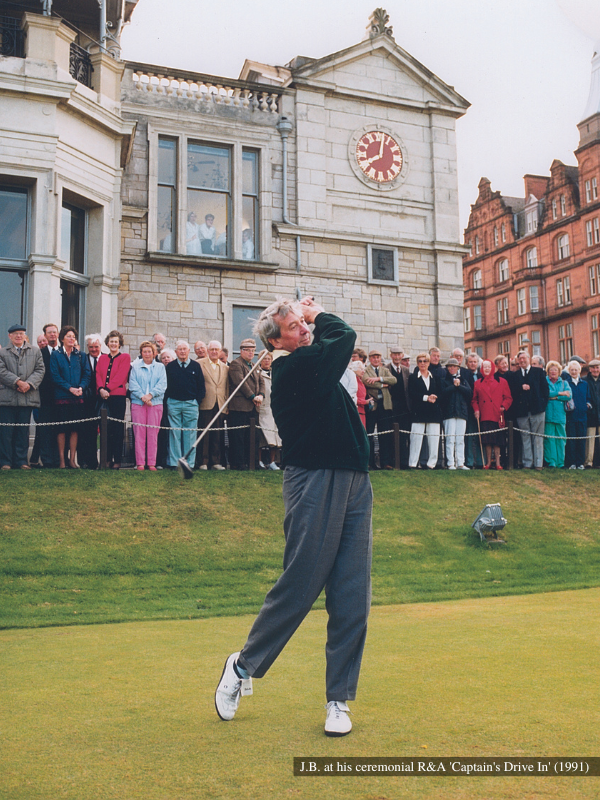 True greats of the game; Bobby Jones, Jack, Arnie, Seve and Tiger were all besotted by her. This week, Jack Nicklaus at 82 will be made an Honorary Citizen of St. Andrews by The Royal Burgh of St. Andrews Community Council, an honour bestowed previously to only two other Americans, Bobby Jones ( 1958) and Benjamin Franklin (1759).
I was fortunate to attend the JP McManus Pro Am in Adare Manor last week, with palpable excitement among the world's best players for what lay ahead in Scotland. Many stayed on in Ireland to finds their links legs on our island's great courses. It is after all The Open in the Home of Golf, the one they all want to win.
Tiger persevered through the pain barrier at Adare Manor with relentless determination. Deep down he knows this will be his last competitive visit to an Open at St. Andrews. He'll experience that same tearful walk over the famous Swilken Bridge, like many greats before him, to wave goodbye and thank the fans and game of golf.
I vividly recall Tiger's 2015 visit to St. Andrews. It followed a period of personal trials and tribulations and in the build-up, word from his camp was that Tiger believed this would be his comeback. At 08.20 on the Thursday morning, I grimaced from the stands as Tiger followed an iron from the 1st tee with a cold duffed wedge into the Swilken Burn. The 'Old Lady' goddess of St. Andrews had driven a dagger through his heart. His confidence, body and soul disintegrated in front of our eyes.
Tiger missed the cut that year and was sent home on Friday night, tail between his legs. The Old Lady must have thought he needed to serve more time in repentance. Only four years later in Augusta did the gods of golf grant him the greatest of goodbye kisses. in this, his Old Course swansong, I believe a fitting, joyful farewell awaits the outstanding player of his generation.
The Old Lady's challenge this week will be to defend herself against the new breed of bombers. My father told Tiger prior to his first win here in 2000, "The only thing that can stop you winning on the Old Course are the fairway bunkers", to which Tiger responded, "I won't be in one, Joe". He wasn't.
The Old Course has stretched its length over the years to keep its treacherous bunkers relevant, though it may not be enough. Her defence needs a stiff breeze and I dearly hope mother nature obliges, at least for a couple of days. It'll suit Rory and Shane if the wind does blow, Seve-like soft hands and shot-making are required on hard, fast links golf.
DJ Johnson and his LIV Golf buddy, Koepka will look to make a statement, as the professional golf world condemns them to exile. At Adare, the polarisation of professional golf was clear and evident, with an amicable short-term solution hard to envisage.
Johnson and Rory were playing close to their best at Adare. Justin Thomas has all the shots and relishes a links golf challenge. Oosthuizen has been working up to this week all year long, who can forget how he ran away with it last time here?
Key Facts: The Open
Tiger (who else!) was the last incumbent World #1 to win The Open.
9 of the last 11 winners had a previous top 10 in The Open.
7 of the last 9 Major winners had a top 10 in their previous Major (5 of last 5).
Recent form: 15 of last 21 Open winners had won in the current season.
Last 5 Open winners had a win or top 3 finish in their previous 3 outings.
Last 11 Open winners had a top 3 finish in their previous 7 starts.
Accuracy, not length off the tee is key
Ball striking – the Old Course is notoriously difficult to scramble on.
Narrows my picks to:
Scheffler (A world #1 hasn't won since Tiger)
Schauffele
McIlroy
Hideki
Morikawa
Bottom line, when Rory is on his links game, he's the best in the world. I hope the Old Lady of St. Andrews looks down favourably on the one who has become the spokesperson for retaining the values and traditions on which our beautiful game is built.
Roddy Carr
July 12th 2022