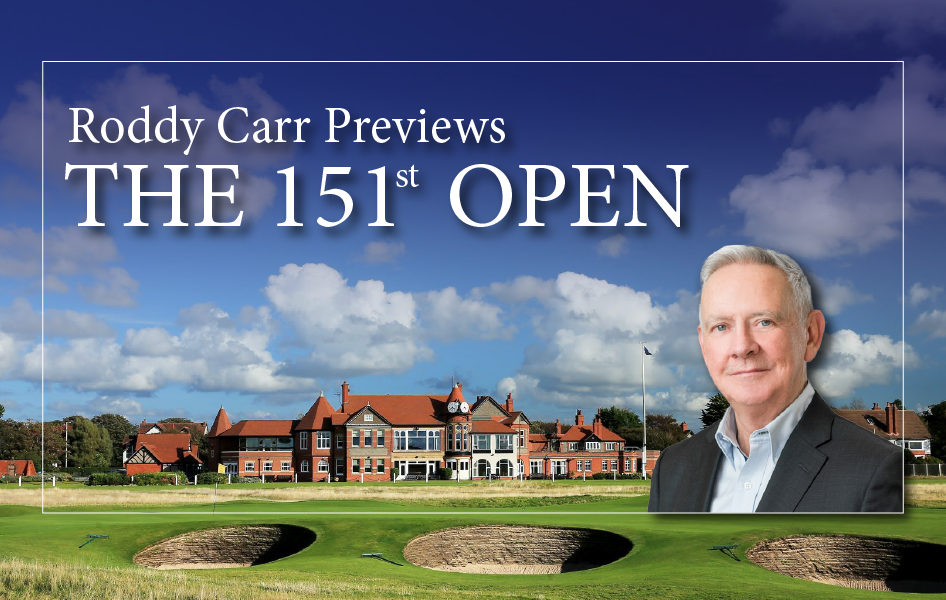 Comments Off

on The Open 2023 Preview: Liverpool's Irish connection, this generation's greatest putter and in-form Rory's return
The Open 2023 Preview: Liverpool's Irish connection, this generation's greatest putter and in-form Rory's return
St Andrews in Scotland is universally known as the Home of Golf. Everybody, everywhere, knows all about St Andrews.
On the other hand, it's fair to say that Royal Liverpool Golf Club, the venue for this week's 151st Open Championship, is little known around the world, but in my view it is the hidden gem of Open venues.
Royal Liverpool — or Hoylake, as it's commonly called, after the village where the club is located, 10 miles outside the city — was the 'seat' of golf in England when it was established in 1871 and the place where the rules for Amateur Status were created and written.
There were 12 Opens played on Hoylake up to 1967 with that famous victory by the affable Argentinian Roberto De Vincenzo, who was a good friend of my father.
After that, however, there was a 39-year gap where the venue was not deemed fit for purpose to hold the Open until 2006, the famous year when Tiger won on the sun baked yellow links using his driver just once in 72 holes.
I was in the US during that Open and listened with amusement as the American golfers looked on their screens at the Open course that did not have a blade of green grass on it and ran as fast as if you were driving down the I95 highway on the US East Coast!
This year, with an unseasonal summer wet spell in the Wirral region, the Open will be played on a much different canvas. The weather is forecast to be damp, maybe a shade nippy, there might also be a bit of breeze to protect the old links. 'Proper Open weather' as the late, great Peter Alliss would have said.
Liverpool's Irish connection
There has always been a strong Irish connection to Liverpool, with easy access by ferry for the thousands that emigrated there over the years.
That Irish connection also extends to Hoylake, where my father won the first of his three British Amateur Championships 70 years ago in 1953.
That victory for JB was just one of multiple Irish successes here, with Fred Daly winning the Open in 1947 and Rory McIlroy's fourth Major — and first and so far only Open — coming here in 2014.
I remember hearing the folklore of my father's victory over the almost invincible Harvie Ward, who was the Ben Hogan of Amateur Golf at that time in America. He had his caddie on the range for the final collecting his balls and the caddie would stand with a baseball glove catching the drivers out of the air on full pitch never moving more than five yards left or right!
When my father arrived and started hitting drivers with his prodigious length, he was unable to land one ball on the range, let alone within catching distance of his caddie!
The onlooking English crowd anticipated Ward giving my father a 'dog licence' — or 7&6 hammering — over the 36-hole final. But my father battled mano a mano, as the great match-player he was, and eventually broke and beat Ward by 2&1.
The pleasure of true links golf
It's such a pleasure to see the joy the great players in the world get from coming to play true links golf. The great players just love it. It's a totally different game and experience, requiring an array of creative shots that only links golf demands.
Tom Watson started the trend years ago of coming to Ireland to play championship links courses such as Ballybunion and Waterville in preparation for the Open.
Jon Rahm has done the same this year, and wasn't it refreshing to see Jordan Spieth pushing his own cart and having a ball playing North Berwick with the in-form Ricky Fowler?
https://twitter.com/DPWorldTour/status/1678860727166042112
Many other players choose to play the Scottish Open on a links course the week before the Open.
The only danger with that is that playing in gale force winds for even a couple of days can derail the golf swing for what may eventually turn out to be a calm Open.
I wonder if Rahm, Spieth, Fowler or any of the rest of our modern day stars have listened to the words of links golf wisdom from Watson, who when asked how he won five British Opens, replied:
"I never once went for a pin at the Open, just tried to hit it in the middle of every green."
That was very much what Tiger did to win at Hoylake in 2006 and Rory in 2014.
This year's leading contenders
Looking at the list of Hoylake Open Champions over the years, with Tiger and Rory following in the footsteps of J.H. Taylor, Bobby Jones, Walter Hagen and Peter Thomson, it just demonstrates the pedigree required to win the Open at Royal Liverpool.
That suggests it could be one of the big guns such as McIlroy, Rahm, Spieth or Scottie Scheffler that gets his name etched on the coveted Claret Jug on Sunday night.
Brooks Koepka, who thrives on the vibe of Major tournaments, has an impressive five majors in six years and while he has yet to win an Open, he has had four Top 10 finishes in the past eight years in this tournament.
Cameron Smith, the defending champion, comes to mind as the man to beat.
He proved his mettle last year to win and is currently coming off a win at the recent LIV Golf event in London. He's the best putter I have seen since Tiger and Crenshaw.
It was putting that came to the fore at St Andrews last year, and that could give him an edge again here.
Rory's Liverpool return
And what about Rory and his quest for a first Major in nine years back at the same venue?
In terms of form, he is undoubtedly the top man at present. He has not been outside the top 10 since Quail Hollow more than two months ago, and that spell has brought a runner-up place in the US Open, a T7 at the US PGA and last weekend's win at the Scottish Open.
In terms of mentality, there was a distinct positive change in his response to losing the US Open at the Los Angeles Country Club last month.
During a post-mortem conversation he commented casually, "when I win my next major".
There were no mere 'ifs'.
That showed a depth of mature confidence we have not seen before, and that could manifest itself at Hoylake.
Cotton, Boros, Irwin and Crenshaw all won Majors eleven years apart and Tiger went nearly 11 between his US Open and famous 2019 'kiss goodbye' Masters.
We will have to wait and see if Rory can break his nine-year Majors drought.
If he does, it will be a joy to behold.