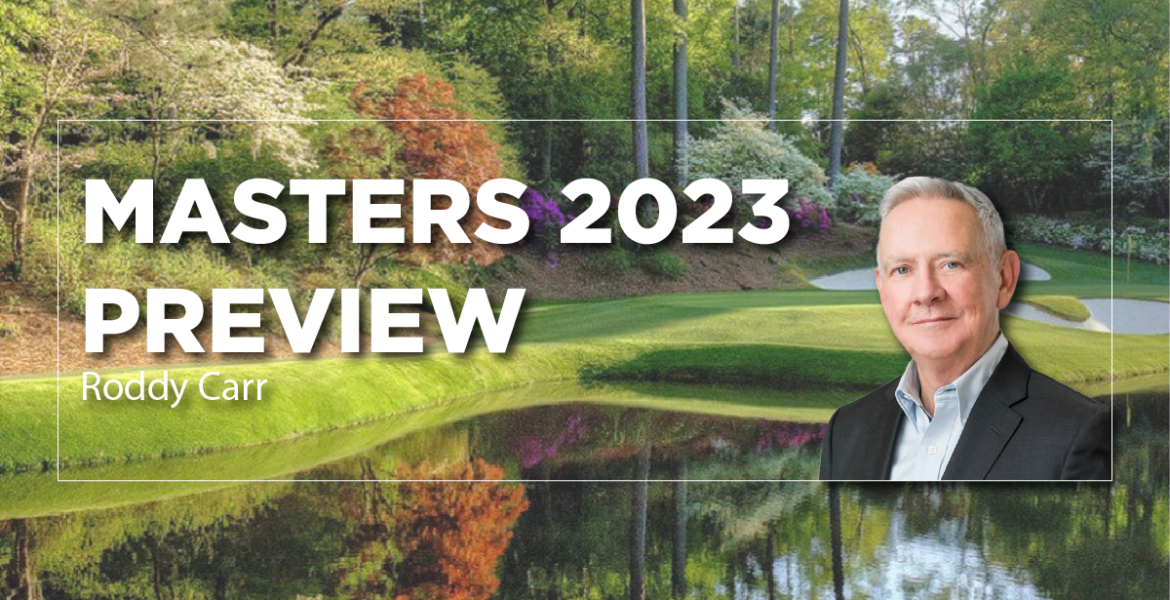 Comments Off

on Masters 2023 Preview
Masters 2023 Preview
There's so much noise around golf these days. It's a relief to return to the Masters and the old-fashioned traditions, integrity and values that Bobby Jones would insist on.
Augusta has zero tolerance for those who 'misbehave', as several TV commentators over the years can attest.  The players are acutely aware they are 'invitees' at the discretion of the Chairman. Augusta makes its own rules. There will be no "Get in the hole" shouts, nor beer cans thrown onto greens. Everyone tows the line at Augusta or you're out, it's as simple as that. Ask Gary Player's son, whose promotional stunt at the ceremonial opening tee shot in 2021 got him banned… for life!
At last year's 150th Open Championship there were strict protocols around discussing LIV golf. Norman didn't receive a formal invite to the event, and I doubt whether he'll show up at Augusta. This is the Masters, where it's all about the golf and who will earn the coveted Green Jacket.
I believe the players will act as Jones would have wanted, with politeness and respect for each other and the game we all love. On the course, there will be a deep, burning desire between the two factions to prevail and it will be fascinating to watch. It will inevitably come down to the back nine on Sunday, where high drama and train wrecks often dominate.
Earlier this year, the new tee on hole 13 was the big talking point. In bygone years, before drones and technology, players and press would have to wait until the drive up Magnolia Lane to discover what changes may have been made during summer months when the course is closed to all.
ANGC Chairman, Fred Ridley had a telling response when pressed on how distance increases have impacted Augusta National in recent years. "There's a great quote from Bobby Jones dealing specifically with the 13th hole, which has been lengthened over time, and he said that the decision to go for the green in two should be a momentous one."  Ridley said. "And I would have to say that our observations of these great players hitting middle and even short irons into that hole is not a momentous decision."
Most of the holes in Augusta have been lengthened considerably since I attended in 1969 the third and final Masters my father played in. I have been lucky enough to play the course in each decade since then. Though it has gotten tougher, the personality and strategy of the holes never changes.
Golfweek surveyed past Masters Invitees recently on the holes that scared them most at Augusta. As expected, Amen Corner at 11, 12 and 13 dominated with all except Nicklaus, who responded, "There isn't any hole that scares me, though there's six shots at Augusta you have to handle. The tee shot on No. 2, the second shot at 11, the tee shot at No. 12, the tee shot and second shot at 13, and the second shot at 15. Those are the six shots that are key to play well there."
Listen up boys in green on how to win the Masters …!
All this talk about length reminded me of conversations with Seve back in the day, regarding the R&A's plans to defend against the emerging power game by lengthening the Old Course. Ballesteros was adamantly opposed to it, he felt the iconic course should be left to be defended by mother nature alone. Later, he admitted that the care taken by the R&A not to alter the basic integrity and strategy of the original design had worked. I am sure he would feel the same about Augusta.
One constant at Augusta and integral to its DNA, is the simplicity, quality and value of its concession stands. It's been over 50 years since I had my first egg salad sandwich with Mum and Pop at Augusta, and if I close my eyes I can almost taste it. Freshly prepared locally each morning and sold to patrons for just $1.50, it takes a stern critic to disagree with Dustin Johnston claim of "The Sandwiches!" being his favourite thing about Augusta.
The topic of food brings me back to Seve and the paella he ordered for his first Champions dinner, following his win in 1980. Jon Rahm has already talked about missing the Champion's dinner, though I'm sure his menu selection is ready should he win. Being ranked world #1 alone doesn't get you invited!
Rahm has that passionate, burning Spanish desire to win at Augusta and follow in the footsteps of his three countrymen. The Open and Masters are the big ones in Spain, thanks to Seve. Jon has all the golf tools, as do maybe 10 other players, to deal with the exquisite, tormenting test that Augusta presents. Though does he have the temperament and patience?
Rory is the most talented player in the world today, arguably the last 10 years with the exception of Tiger. McIlroy's soul will not rest until he wins at Augusta. A Green Jacket will immortalise him in golf as a Grand Slam winner.
Jack Nicklaus' recently acknowledged Rory's awesome talents, though citing his 'focus' as a weakness may inadvertently help Rory, who has great respect for Jack and I am sure was listening. When Jack played in Majors, people joked he would cross a fairway and walk right by his wife, Barbara and wouldn't recognise her. If Rory putts well and can stay focused, he is the one to beat.
Shane's soft hands and beautiful touch around the greens, like Couples and Cabrera,  suit Augusta well.
It's hard to believe Scheffler can dominate as he did at Sawgrass recently, though he's found a spiritual cocoon that offers the patience and perseverance that defies his quirky 'dancing shoes' footwork that can lead to inconsistencies.
Johnson and Reed are outliers to watch. They may not be golf intellectuals like Nicklaus and Tiger, but they feel a bond with Augusta. Johnson reminds me of my father's old saying, "There are two types of great players; those who think it all out and those that don't think at all".
It will be fascinating to see who will prevail in golf's Garden of Eden amidst the turmoil surrounding our beautiful game.
Roddy Carr