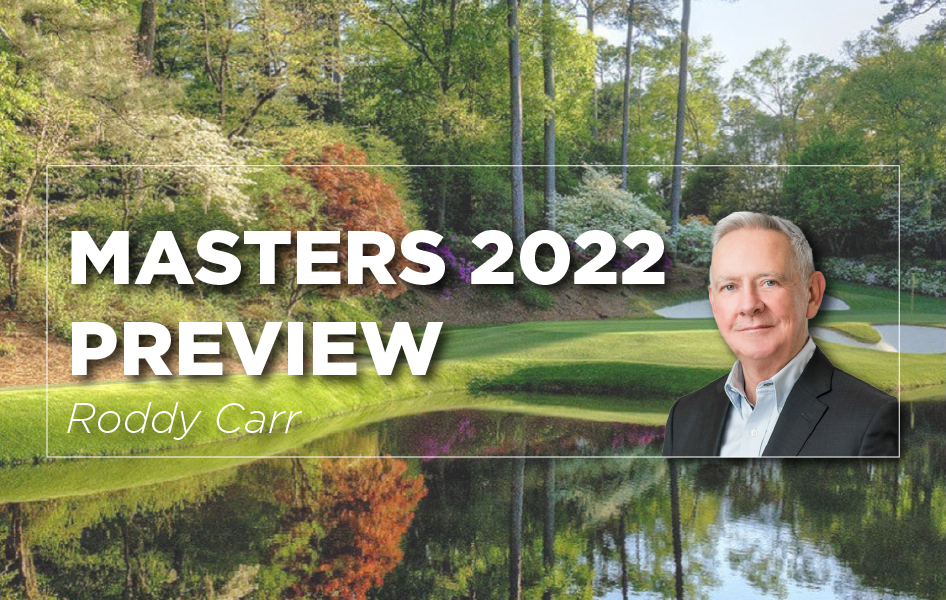 Comments Off

on Masters 2022 Preview
Masters 2022 Preview
Teeing it up at the Masters, Augusta and the Old Course, St. Andrews stand head and shoulders above all others for sheer excitement and playing experience. This year we're in for a treat, with both hallowed grounds set to host a Major.
One look at the Tour diary this year will have helped Tiger push himself to compete in his two favourite events, on his two favourite courses, before father time counts him out. Tiger last competed at the Old Course in 2015, when the goddess of St. Andrews dealt him a cruel blow. Having duffed his second shot on the 1st hole into the Swilcan Burn, Tiger returned home with his tail between his legs. His 'comeback' would have to wait until that magical kiss goodbye at Augusta in 2019. The return of that unmistakable primal, body and soul 'Tiger' roar was his ultimate moment, expunging ghosts from his past, revealing his deep passion and inner character to fans and naysayers.
This year's tournament is more eagerly anticipated than most I can recall. We live in strange times, perhaps COVID and the invasion of Ukraine have us craving old fashioned values, good manners, sportsmanship, kindness, respect, and the beauty of the simple things in life. Values that are the essence of the Masters.
Augusta National kept the show on the road during COVID without much fuss and self-congratulation, just as founder Bobby Jones Jr would have preferred. The inaugural Augusta National Women's Amateur in 2019 followed female members being welcomed in 2012. The Men's tournament now includes qualifying events for amateurs in South America and Asia. Augusta National is quietly evolving and continues to contribute to the global game.
Sponsors queue up for Augusta National affiliation. Patrons guard and value their lifelong passes like no other ticket and TV commentators tread carefully with their words, for fear of banishment. Co-founder Cliff Roberts ensured from the start that the Chairman's word is final. Nobody messes at Augusta, full stop! The Masters remains one of the greatest shows on earth.
Each year, players drive the tranquil and regal Magnolia Lane to the Clubhouse, curious as to what may be different from last year. Changes during pre-tournament course closure are kept top secret.
Surprises await this year. The notorious 11th and 15th holes have been lengthened. Subtle changes have been made to greens and surrounds, to help defend against advances in technology. I think back to first playing the course in 1969, the last year my father J.B. competed in the Masters and reflect on how little its appearance has changed. I love that there is still no rough. Defended by its greens, course strategy demands shape and precision from approach shots, more so than most on the Tour schedule.
I fondly recall playing Augusta with my three brothers, many years ago. Our caddy that day was Earnest Nipper, a stalwart from a bygone era when co-founder, Cliff Roberts would insist all players used 'local' caddies. 'Nipper' was famously on Gary Player's Masters' bag until a 1982 rule change allowed players to bring their own Tour caddies.
Nipper' loved that we were playing a family challenge, and of course had a wager with the opposing caddies. I was on the 15th fairway, standing central 240 yards from the pin, roughly where Chip Beck blew his Masters in 1993. I looked up and said, "Have to do it, Nipper" to which he replied, "I know". He looked me straight in the eye and handed me my driver. Nipper had previously caddied in a group with my father and had read my mind. I cut this driver up, the ball landed like a butterfly with sunburned feet and held on the back of the green. Nipper smiled, nodded and took back the driver. – it was a moment I still savour. Unfortunately, many Augusta caddies from Nipper's era are no longer with us, though should never be forgotten.
The longer course is an attempt to contain the new 'bomber brigade' from overpowering her. I suspect DeChambeau has learned his lesson and will show Augusta some respect. His previous boasts to, "make mincemeat of the Masters" have now gone quiet.
High risk – high reward was built into Augusta's DNA by Jones. You won't win with a weakness in your game, or your character. You must be either the smartest or the bravest to survive the test. Seve was the bravest, Jack the smartest. Tiger probably both.
Who fits the bill for 2022? Who wants it the most? Who has the patience, tenacity, nerve and courage to win? There's not many. JT probably wants it the most. Koepka has a score to settle with the back nine after his collapse against Tiger in 2019. The new kids on the block may struggle to carry recent form onto the test posed by Augusta.
Soft hands, imagination and great skill have won many times. Seve, Olazabal, Crenshaw, Cabrera and Fuzzy to name a few. I know I am biased, though Shane Lowry fits the mould and has already proven his 'cohones' at Portrush.
I think Bobby Jones would enjoy seeing a smiling and effervescent Viktor Hovland taking the green jacket back to a new country on Sunday evening.
Jack Nicklaus commented during Rory's early career how much his game suited Augusta, suggesting at least four Masters victories would follow. The jacket would fit comfortably on Rory's now more mature shoulders, fulfilling his legacy as an all-time great.
The golf world awaits, and we don't expect it will be disappointed. The Sunday back nine at Augusta always delivers. I can't wait!
Roddy Carr
April 4th 2022