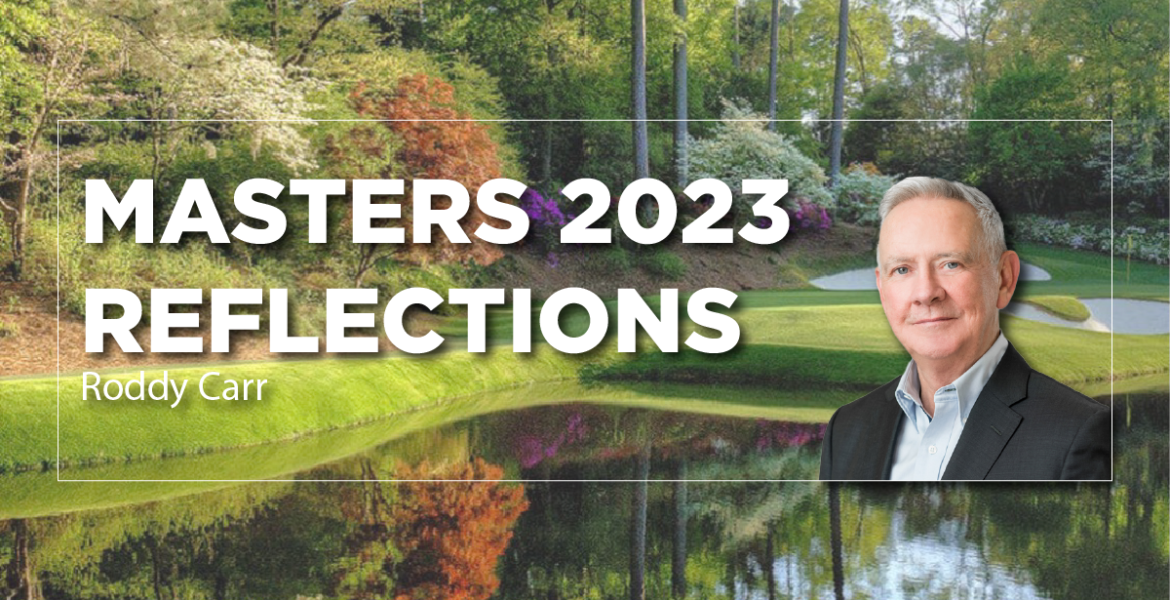 Comments Off

on 'Mano A Mano' At Augusta
'Mano A Mano' At Augusta
Well, what a fascinating event to attend and follow through the weekend. Dramatic, unpredictable and packed with undercurrents, flashbacks, reverence, blasts from the past and sad pictures of Tiger's looming demise.
Most exciting of all, it featured a classic duel between the two best players from two opposing factions in our fractured game. The script had it all and it was a compelling watch.
The majestic, impeccably conditioned golf course succumbed to the only element it cannot control, mother nature. Following relentless rain on Saturday, the sub-air drainage system and manpower on green 7 were defeated and the siren sounded. It set up a marathon Sunday showdown for the two dominating gladiators on top of the leader board.
Odds were even, though Koepka had the edge, having won all three of his Majors from the front and leader when play was suspended. He and Rahm had separated themselves sufficiently for the chasing pack to believe maybe one may falter, though not both. The pack would of course chase, but deep down with only faint hope in their hearts.
It was now pure 'mano a mano', hand to hand combat as Seve loved to say. Pure match play, where one player's actions have a direct psychological effect on your opponent.  My father, like Seve, was a master match player and won 40 such championships, including three British Amateurs. Many times, I saw JB break the heart, mind and soul of his opponents, executing impossible shots from deep rough and gorse and sinking long puts before his opponent's unbelieving eyes!
When Seve first won at Augusta in 1980, in his mind he was the matador and had 87 players to slay. The field was his bull and only one survives, it's win or die! Every birdie, he saw the blood of those slain on the greens. When he eagled, he saw the green awash with red. The matador had the field defeated with nine holes to spare when he cruised to his first Masters victory.
Rahm is more sophisticated than Seve, perhaps a state-side collegiate upbringing 'Americanised' him somewhat. There's no doubt that the fire in Rahm's Basque belly remains. His burning, passionate desire to win was almost tangible at Augusta on Sunday. Koepka is a different, more complex character distanced from the traditions of the game and its history. Confident following his recent win, a fit Koepka was keen to finish the job as per his past four Major victories. Let his natural talents flow, victory should follow.
Koepka hadn't factored the 'mano a mano' with Rahmbo, who was relishing the encounter.
With match play DNA coursing through his veins, Rahm struck immediately when play resumed on Sunday morning, making birdie on holes 7 and 8. 'Cruising on' for Koepka wouldn't cut it this time. Each time a door opened, Rahm took advantage and Koepka's confidence slowly ebbed away. It was a clinical, patient and perfectly executed strategic break down of an opponent's spirit. Rahm refused to let his side down in this encounter.
An entertaining side-show was a gaunt though fighting-fit Phil Mickelson. Dressed in a moody dark black, Phil was 10 shots better that Koepka on the day. Along with Spieth and Reed, the trio showed that it's horses for courses at Augusta.
It was notable that the players appeared to respect the core values of the Masters and Bobby Jones. Little or no oxygen was given to LIV GOLF during a week in which legal rulings went against the controversial tour – not much was said despite having plenty to talk about.
The young amateur, Sam Bennett being in contention for so long will have raised a smile in Jones, no doubt keeping a watchful eye on his legacy event from above the rain clouds.
I was struck by the pure joy Olazabal showed when he greeted Rahm behind the 18th green. The Champion's humility in his victory speeches, his demeanour and reference to Seve, who he obviously felt helped him along the way, was incredibly touching.
Jon Rahm winning the Masters 40 years after Seve, on what would have been his 66th birthday, with Ballesteros' son Miguel and daughter Carmen present at Augusta was serendipitously beautiful.
Roddy Carr
12th April 2023