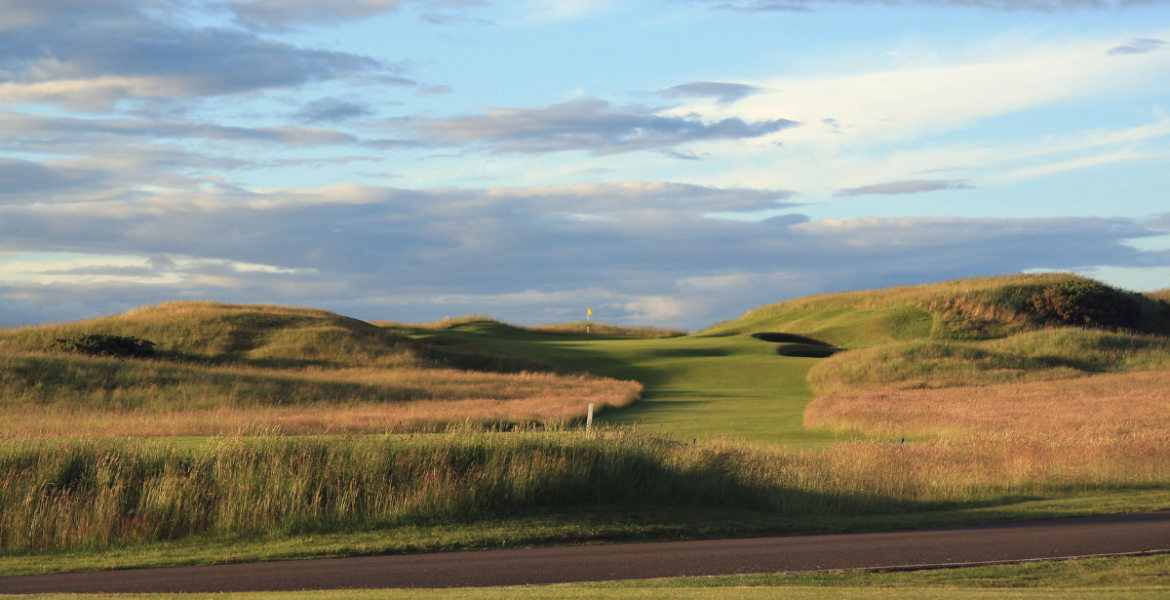 Comments Off

on The Greatest Day in Golf: Muirfield Golf Club
Commonly regarded as "the greatest day in golf," a 36-hole day at Muirfield is an ideal anchor to any Scottish golf vacation. These itinerary ideas encompass some of the best golf that East Lothian has to offer.
Day One: Arrive at Edinburgh Airport. Upon arrival, you'll be greeted by a member of the Carr Golf Travel team who will escort you throughout the trip. Begin your trip to "Scotland's Golf Coast" with a round at Dunbar Golf Club. Fun Fact: The town of Dunbar has nearly 400 years of documented golf history – only a handful of other Scottish golfing locations date as far back.
Established in 1856, Dunbar Golf Club has hosted countless national and international championships including the first PGA Championship on the European Tour in 1968 (now contested each year at Wentworth Club). Situated on a narrow strip of land beside the North Sea, some of its most scenic holes are within yards of the waves crashing onto the rocky shore. The course's routing is unique in that the first three holes don't follow a traditional out and back layout as they are nestled further inland.
Arguably the course's signature hole, the elevated third tee box, faces the water and boasts tremendous views of the sea, clubhouse and coastline. The course is bordered by a large wall separating it from Broxmouth Park which runs parallel to the coastline. This stone wall provides both character and an added challenge on holes No. 6 – 10, especially for those who tend to miss right. The layout doesn't become any more forgiving on the back nine as the turbulent sea provides a threatening boundary.
Multiple blind tee shots, countless opportunities to fall out-of-bounds and an assortment of challenging greens make this course exceptionally intriguing, sometimes frustratingly so.
After your round, check into your elegant accommodations at the Greywalls Hotel. Situated on the edge of Muirfield championship golf course, this stylish Edwardian country house boasts stunning views over East Lothian and the Firth of Forth. You'll be calling Greywalls home for the next four nights, giving ample time to explore the property's delightful walled gardens, drawing rooms and charming dining areas.
Day Two: Play Course No. 1 at Gullane Golf Club, conveniently located just over a mile from the Greywalls Hotel. The oldest of Gullane's three championship layouts, Course No. 1 dates back to 1884. One of Scotland's finest links courses, it isn't known who designed Gullane No. 1. Each hole has its own distinct character, and the par-5 third has been ranked among the best in the world.
Gullane features all the challenges of a traditional links course, plus the added factor of significant elevation changes, a trait somewhat unusual for links courses. The requirement of varied uphill and downhill shot-making is a test for even the most accomplished golfers. Its splendid turf – predominately Bent grass on the fairways and Fescue on the greens – makes winter rules unnecessary. It is known for its well-maintained greens, links grasses and extensive bunkering.
Day Three: Play famed North Berwick, one of the oldest and most fun to play courses in Scotland. Its prestigious West Links' fascinating history begins in 1868 with just six holes. Additional holes were added over the course of the next three decades or so. The course is best known for holes No. 13 – 15 named "Pit," "Perfection" and "Redan." The last of this iconic stretch of holes is perhaps the most copied in golf.
The original Redan hole features a green sloping strongly from right to left making accuracy essential. Don't miss the putting surface or you'll have to contend with one of the many greenside bunkers or the vast hidden gully to the right front of the green. For six holes, the sea becomes a long and unforgiving hazard, especially when the tide is in. Walls situated in the middle of fairways and in front of greens provide an additional challenge.
Day Four: Close out your trip with 36 holes at mighty Muirfield. Home of The Honourable Company of Edinburgh Golfers since 1744, this iconic course has hosted more than 40 national and international competitions, including 16 Open Championships.
A Tom Morris design, Muirfield was renovated by Harry Colt in 1923. Its captivating routing features two concentric rings with the back nine nestled inside the front nine's outer ring. This unique feature ensures a wide variety of wind conditions.
Muirfield holds a special place in the memory of our late founder J.B. Carr's prolific golf career. The fact that he was never an outstanding putter made his singles victory over Charlie Coe in the 1959 Walker Cup at Muirfield particularly memorable. Carr was 1-up with seven holes to play when someone in the large gallery inadvertently stepped on his putter, snapping it in two. Carr went to his trusty 3-iron on the greens and closed out the match with a 15-footer on the 35th hole.
Built in 1891, Muirfield's clubhouse transports golfers to a bygone era. Delightfully traditional, it enforces a strict dress code requiring a jacket and tie to enter. Take time to explore as all the public rooms look out on the famous course and contain an eclectic selection of pictures, memorabilia and some of the finest first edition golf books in the world. After lunch, head back out for a spirited afternoon round of alternate shot play, a traditional game long enjoyed by members of the club.
Muirfield remains one of the most sought-after tee times in the world. It is situated in the region where the game was born and first blossomed and the golf-rich area is ideal for a Scottish golf vacation of a lifetime.
Day Five: Depart Edinburgh Airport armed with a selection of fun tales from your Scottish golf adventure.
This extraordinary package includes:
Five rounds of championship golf (Dunbar, Gullane No. 1, North Berwick and two rounds at Muirfield)
Four nights' luxury accommodation at the Greywalls Hotel
Luxury vehicle transport with driver
Concierge service before, during and after the trip
Donald Ross Sportswear Gift
If you wish to experience our 'Greatest Day In Golf' itinerary, contact our travel team today using the contact form below, or call +353 1 822 6662 or US Toll Free 1 855 617 5701. Prices start at £2,635 per golfer sharing based on a group of eight.
---
Error: Contact form not found.
*Airfare not included. Offer subject to availability