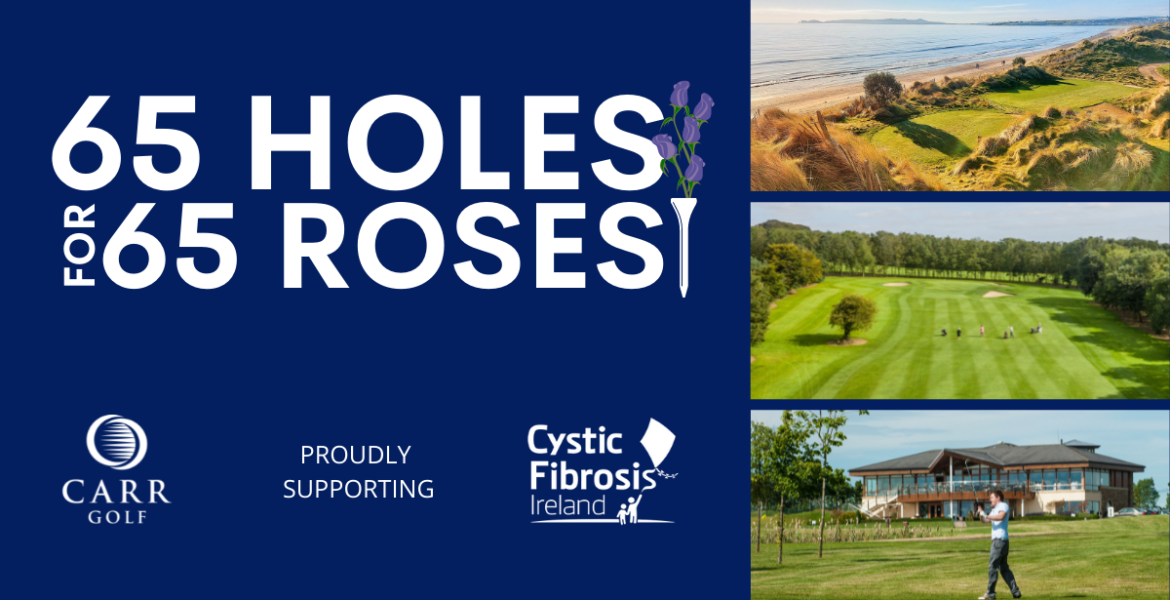 Comments Off

on 65 Holes for 65 Roses – Cystic Fibrosis Ireland Fundraiser
65 Holes for 65 Roses – Cystic Fibrosis Ireland Fundraiser
A couple of weeks ago, Marty received a phone call from Darren Fitzgerald,  a long-time friend and regular on the Carr Golf circuit (especially babysitting our guests at the annual Father & Son Tournament). Darren's idea is to raise funds for Cystic Fibrosis Ireland. On Monday, July 19th Darren Fitzgerald will take on the challenge of playing 65 holes of golf across some of Carr Golf's venues in Dublin.
A message from Darren
Four years ago my eldest daughter Caoimhe was born with Cystic Fibrosis (CF) an inherited multi-organ chronic disease that primarily affects the lungs, pancreas and digestive system. As a parent to a child with Cystic Fibrosis, the CF Community around the world have provided fantastic guidance, support and comfort to us.
To show my gratitude to the community, I really wanted to help raise much needed funding. After brainstorming many ideas, I came up with the concept of playing 65 holes of golf in one day – what a challenge! You may ask why 65 holes? To help children pronounce Cystic Fibrosis they are taught the catchphrase '65 Roses' and CFI's annual fundraising day is called '65 Roses Day'.
I called Marty and the Carr Golf team, shared the concept and they said "let's do it"
So this Monday, July 19th, with the support of the Carr Golf Team and Cystic Fibrosis Ireland I intend to play 65 holes of golf across 3 golf courses; Corballis, Elmgreen and Castleknock.
Keep an eye out for us across Carr Golf's social media channels over the next few days and on the day itself and if you would like to make a donation to this worthy cause please click on the link below.
Please support '65 Holes for 65 Roses' this Monday, July 19th.
Darren Fitzgerald