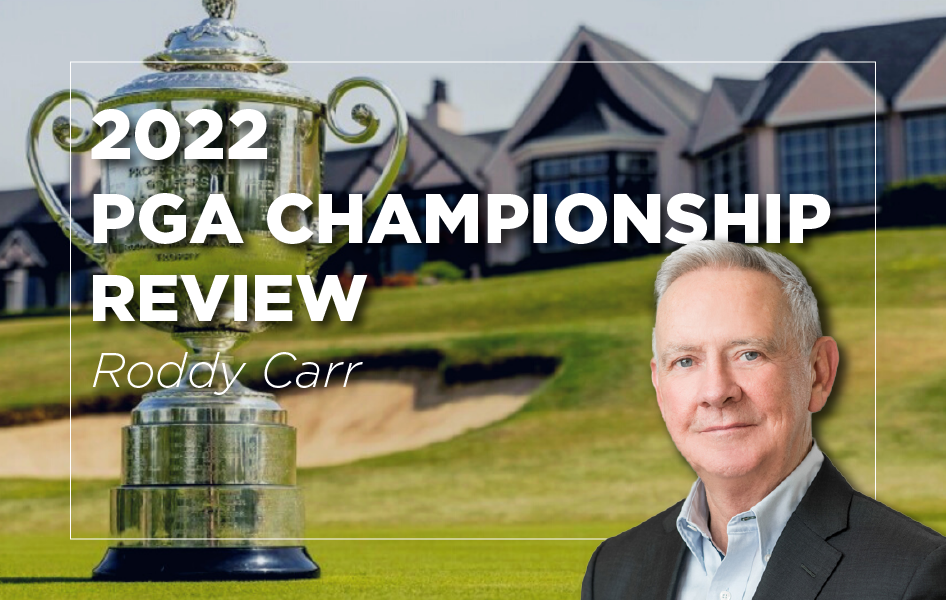 Comments Off

on 2022 PGA Championship Preview
Tiger is set to climb more mountains at Southern Hills this week, as he steps up his preparation for the ultimate goal of being truly competitive at the 150th Open at St. Andrews this summer. It reminds me of time I spent managing Seve Ballesteros in the twilight of his career. Seve and Tiger were the 'people's' champions of their respective times.
Few were aware back then of what had accelerated Seve's decline from the game. In truth, he'd suffered a chronic back issue, disguised from the public for many years. He saw it a weakness to use his back as an excuse, to let his peers know he was not at 100%. It was the Matador in him. You don't let a bull know when you are scared in the ring. For Seve, it was win or die.
As his back deteriorated, Seve was unable to force his will on the ball with the same incredible brute power, instinct and fearlessness of his youth. Back then, for him the impossible was nothing. In later years, he found it painful to accept. Even the great Butch Harmon secretly flew to Spain to help him swing and play like 'all the rest'. It didn't work.
Whilst short lived, Ballesteros' comeback lasted long enough to deliver his final career win, at the 1995 Peugeot Spanish Open. It led to a memorable kiss goodbye at the Ryder Cup at Oak Hill later that year, with Seve the heart, soul and inspiration behind a European win.
Over the years, Tiger, like Seve, produced many memorable shots with his young, strong and subtle body. His 2008 US Open victory was in spite of two stress fractures in his leg and a battered ACL. As folklore tells it, he 'won on one leg'. That was 14 years ago, before the back operations and personal trials and tribulations he's since battled through.
Father time is closing in on Tiger, I suspect he knows it and it's fueling this herculean effort. A personal mission to finish it all at St. Andrews. Anyone else but this extraordinary athlete, one would say it was impossible!
Golf is an unforgiving game. Only the true greats master it. Sarazen, Hogan, Player, Nicklaus and Tiger are the only members of the coveted career 'Grand Slam Club'. Immortality alludes the likes of Mickelson and Rory, who still await enrolment into golf's most elite club.
This week, Jordan Spieth has an opportunity to join that esteemed group. It is an enormous pressure to bear even for someone who has proved his steel, winning The Open in 2017 after his stake-in-the-heart collapse at the 2016 Masters. Spieth's on form and will have strong support.
Scottie Scheffler for the first time will carry the weight of heading into a Major as favourite and the planet's most in form player. No longer under the radar, it changes things. More demands, greater expectation and increased tension. It will be interesting to see how he handles it.
In my opinion, Rory played his best ever golf when he won the 2012 PGA Championship by eight shots at Kiawah Island. The Ocean Course is a brute and he mastered it with sublime golf. The Gill Hanse restored Southern Hills Country Club, host to three US Opens and four PGA Championships, is one of the sternest tests on the Tour and will suit Rory if he hits a purple patch this week.
Xander Schauffele's game is ideally suited for such a test, as is Colin Morikawa's whom I am sure believes he can win another Major. Justin Thomas has fire in his belly and a burning desire to match his aggressive style of play.
Over the years, the PGA Championship has thrown up some unlikely winners; Mark Brooks, Rich Beem, Shaun Micheel and more recently Jimmy Walker. It's tough to predict who will lift the trophy this year. It will take patience, perseverance and Cohones, all traits Seve was gifted in abundance, to win.
Roddy Carr
17th May 2022