CREATING UNIQUE EXPERIENCES & MEMORIES FOR LIFE
Ireland and Scotland's leading luxury golf travel provider for over 30 years
Being a golf travel leader for over 30 years' in some of the world's greatest golf destinations is no mean feat, though Carr Golf has managed it. Built on the legacy of my father Joe Carr, Carr Golf benefits from a rare combination of experience, tradition and a reputation for delivering unique golf experiences. We help create memories for life. Our expert team is ready to help plan your special experience, tailor-made to your personal preferences. We look forward to offering you, your friends and family a warm welcome to Ireland, Scotland or England. You have my assurance that we will do everything to ensure you enjoy the very best of 'craic' on your journey with us.
Warm regards,  Marty.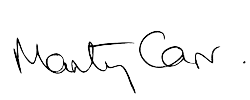 ICONIC GOLF TOURNAMENTS
Journey with your fellow golfers to Ireland or Scotland and experience an iconic Carr Golf hosted tournament.
Carr Golf Travel has been hosting world-renowned golf tournaments and events globally for over 30 years. We pride ourselves on creating the best experiences encompassing great golf, great craic and even greater friendships in some of the world's most special locations.
CARR GOLF LATEST NEWS
Don't miss out on our latest news
Please click and drag to the side to view more posts
Traditionally the golfing season starts in mid-April and runs through to mid-October. Most links courses open year-round but may have restrictions on play during the winter season.
Early planning is essential to guarantee tee times on the world's most sought-after courses. Generally, most courses will open their tee-sheets from July the year prior to play. As an Authorized Provider of coveted tee times at the Old Course St. Andrews, our team submits all client requests in February the year prior to play, so we advise that you submit your desired tee time as early as possible.
Carr Golf will assist in requesting caddies if required during your trip. Typically, caddies in Ireland will carry two bags. In Scotland, Northern Ireland & England, caddies will generally carry 1 bag each. Caddie costs differ per course but are generally around €/£ 50-75 per golfer per round, plus gratuity. Please check with your Fulfilment Executive on specifics relating to courses for your itinerary.
LOOKING FOR CARR GOLF SERVICES, LEADERS IN COURSE MAINTENANCE & CLUB MANAGEMENT?












NEWSLETTER SIGN UP
Don't miss out on all of our latest packages, upcoming events or news.